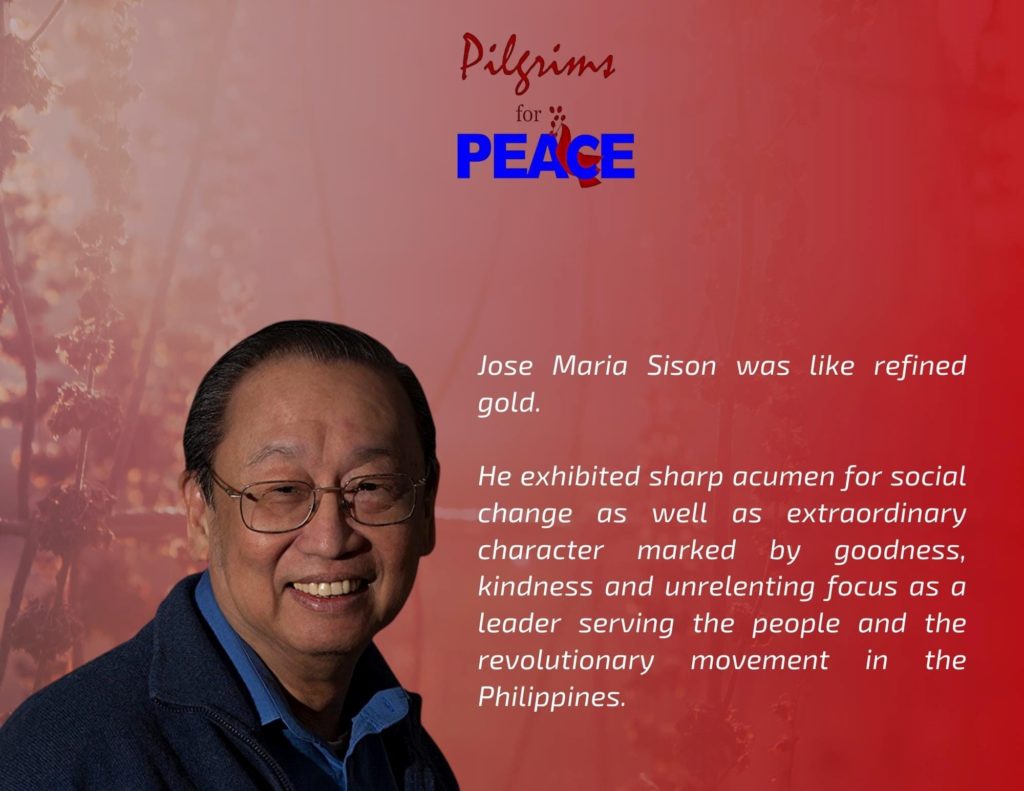 Pilgrims for Peace Statement
20 December 2022
Sharing deep sorrow for dreams not yet fulfilled, Pilgrims for Peace mourns the passing of a principled and resolute icon of the Filipino people's struggle for a just and lasting peace.
Chief political consultant of the National Democratic Front of the Philippines and founding chair of the Communist Party of the Philippines Jose Maria Sison was like refined gold. He exhibited sharp acumen for social change as well as extraordinary character marked by goodness, kindness and unrelenting focus as a leader serving the people and the revolutionary movement in the Philippines.
Maligned and persecuted under the US-led war of terror, Ka Joma was not a terrorist. With his passing, we assert once more that neither Ka Joma, the Communist Party of the Philippines, the New People's Army, nor the National Democratic Front of the Philippines can nor should be derogated as terrorist. The long-seeded revolutionary struggle of the Philippines, finds its roots in the colonial vestiges of the feudal bondage of the rural peasants and the backward economy and stunted development of entrenched Imperialist machinations. Ka Joma proved his mettle as an ideological beacon, incomparable strategist and tactician, and reliable backbone of the oppressed and exploited masses in their cry for national and social liberation.
Let it be known: Ka Joma was also a most committed advocate for building a just and lasting peace in the Philippines. With verve and persistence, Ka Joma sounded the clarion call for principled negotiations with any government of the reactionary state that was willing to address the roots of the armed conflict in the Philippines. His unwavering commitment to pursue a way to just and lasting peace under The Hague Joint Declaration was matched by his fervor for the implementation of the Comprehensive Agreement for Respect for Human Rights and International Humanitarian Law (CARHRIHL) and the crafting of the Comprehensive Agreement on Socio-Economic Reforms (CASER). Ka Joma demonstrated that his belief in the need for revolution was matched by an unflinching commitment to pursue peace negotiations between the Government of the Republic of the Philippines and the National Democratic Front of the Philippines.
As peace advocates, we join in the people's salute to an ingenious, innovative and unfailing trailblazer. His infectious belief in freedom and social change gave rise to daring struggle and concrete gains for the poorest and most marginalized of the Philippines. Ka Joma inspired a social movement and guided the political maturation of thousands toward their aspiration for national democracy from a socialist perspective. As the founding chair of the Communist Party of the Philippines, the contributions of Jose Maria Sison has been indelibly written into the fabric of his motherland.
Now, we and all peace and justice loving Filipinos must continue the journey toward building a just and enduring peace for the Filipino people. #
Most Revd. Rhee M. Timbang, Obispo Maximo, Iglesia Filipina Independiente
Bp. Dindo Ranojo, Ecumenical Bishops Forum
Rev. Irma Balaba, Promotion of Church People's Response
Fr. Ritchie Masegman, Episcopal Church of the Philippines
Rev. Frank Hernando, Executive Secretary, UCCP
Rev. Homar Distajo, Executive Secretary, UCCP
Dss. Norma Dollaga, Kasimbayan
Kej Andres, Student Christian Movement-Philippines
Mike Pante, PhD, ACT for Peace
Atty. Ephraim B Cortez, National Union of Peoples' Lawyers
Joanna Concepcion, Chair, Migrante International
Arman Hernando, Chair, Migrante Philippines
Gert Libang, Chair, Gabriela
Amirah Lidasan, Moro-Christian People's Alliance
Feny Cosico, AGHAM
Elmer Labog, Chair, Kilusang Mayo Uno
Rafael Mariano, Kilusang Magbubukid ng Pilipinas
Cathy Estavillo, Amihan National Federation of Peasant Women
Dr. Carol Araullo, BAYAN
Tinay Palabay, Karapatan