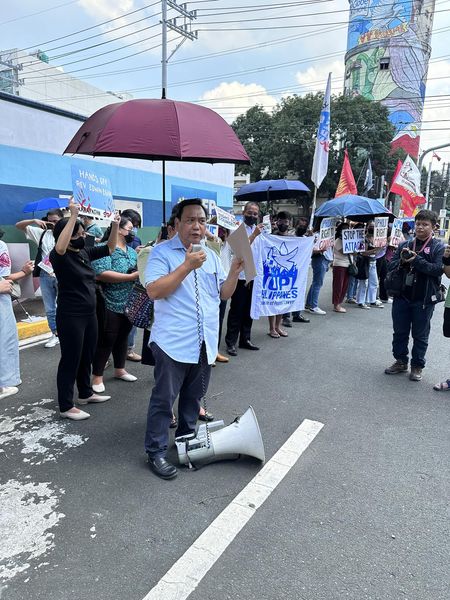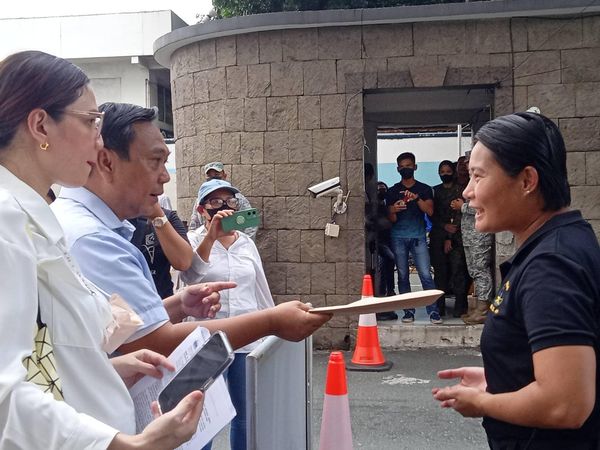 Letters (see bottom) from the NUPL and Nieves Lizada, mother of detained activist Mary Joyce Lizada, to new DND Secretary Gilberto Teodoro are refused receipt by AFP personnel in Camp Aguinaldo.
National Union of Peoples' Lawyers
PRESS STATEMENT
July 7, 2023
The Philippine government must ensure the strict compliance by its national security forces with domestic and international laws protecting the basic rights of persons deprived of liberty and impose all necessary sanctions on those who ceaselessly and obstinately transgress these obligations.
In the first half of 2023, the National Union of Peoples' Lawyers (NUPL) has observed a disturbing pattern of disrespect of the rights of human rights defenders accused of committing terrorism and terrorism-related offenses in Southern Luzon. They have been charged for allegedly providing material support to terrorists under Republic Act No. 11479 for extending assistance to farmworkers, indigenous peoples, and victims of militarization in the region, where there are now 13 pending cases of terrorism and terrorism-related offenses.
Some of these rights defenders are now being kept in military encampments and deprived of their right to be visited by family and assisted by competent and independent counsel. Lawyers of their choice as well as of their families have been prohibited from visiting them in violation of the 1987 Philippine Constitution and Republic Act No. 11479 (Rights of Persons Arrested, Detained, or Under Custodial Investigation). NUPL, as counsel for two indigenous peoples' rights activists who have been detained in Camp Capinpin, had twice been denied access to the said clients.
The lawyers themselves have been demonized and hindered from discharging their professional duties. In one instance, lawyers from SENTRA have been accused before the Commission on Human Rights (CHR) Region IV-A of harassment and intimidation by an army sergeant for trying to pass through a military checkpoint and asserting their clients' right to counsel during a quick reaction team (QRT). The QRT was intended to gain access to two sugar farmworkers and an elderly person who were abducted by the military in late March in Balayan, Batangas.
Three young rights defenders from Southern Tagalog are also facing trumped-up complaints of terrorism and providing material support to terrorists in retaliation for the humanitarian missions they conducted on the killing of nine year old Kyllene Casao in Taysan, Batangas.
We urge the Philippine government, particularly the Department of National Defense, to enforce within the ranks of its security forces the fulfillment of detainees' basic rights without distinction or discrimination of any kind as well as to respect the independent exercise of the legal profession, especially by human rights lawyers. We note that brazen violations of these rights and liberties have caused an alarming rise in the occurrence of torture, cruel and inhumane treatment or punishment that led to the forced or fake surrenders of civilians labeled as "rebel returnees." The misuse of counter-terrorism laws through the filing of trumped-up complaints by military personnel has also suppressed freedoms and constricted civic space.
We further submit the following calls to the newly appointed Secretary of National Defense Atty. Gilberto "Gibo" Teodoro, which he is empowered to heed and implement in exercising supervision over the Armed Forces of the Philippines under Executive Order No. 292 (Administrative Code of 1987) and in his capacity as the alter ego of the Commander-in-Chief:
All arrested, detained or imprisoned persons, regardless of status, shall be provided with adequate opportunities, time and facilities to be visited by and to communicate and consult with a lawyer, without delay, interception or censorship and in full confidentiality;
Lawyers should be allowed to travel and to consult with their clients freely and should not suffer, or be threatened with prosecution, administrative or other sanctions for any action taken in accordance with recognized professional duties, standards and ethics; and,
The military should refrain from filing trumped-up cases of terrorism and terrorism-related offenses against persons engaged in humanitarian activities and legitimate exercises of free speech and expression, such as advocacy, protest, and dissent, as well as from deliberately providing incorrect addresses of respondents while instituting complaints before prosecutorial offices.
The military personnel and commanding officers responsible for the foregoing incidents must immediately be investigated and made to account for their human rights violations.
Activism is not a crime. Stop the attacks!
References:
Atty. Ephraim B. Cortez
NUPL President | +639172092943
Atty. Josalee S. Deinla
NUPL Secretary General | +639174316396
—-