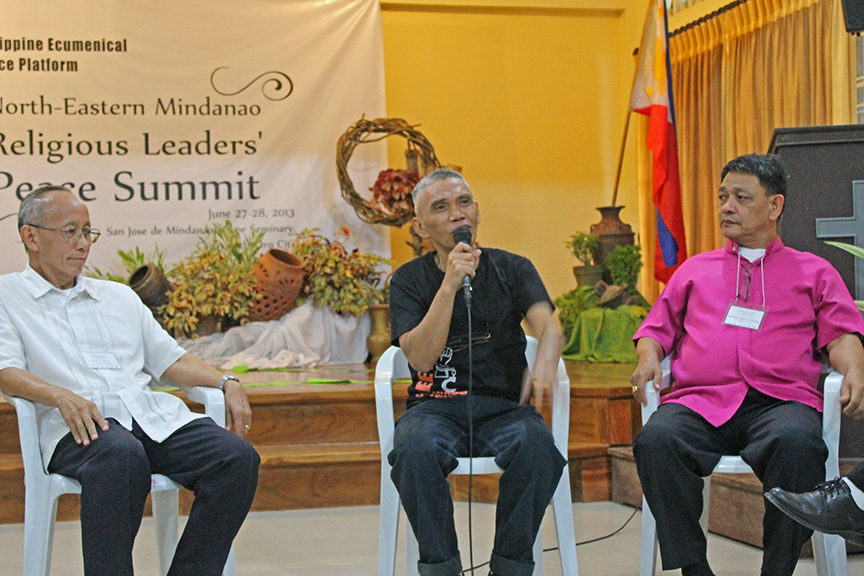 Archbishop Antonio Ledesma listens as detained NDFP-Northern Mindanao official Alfredo Mapano shares his views on the peace process during a PEPP conference in Cagayan de Oro City on June 28, 2013. MindaNews file photo by H. MARCOS C. MORDENO
By FROILAN GALLARDO – Minda News
DECEMBER 1, 2021 6:55 PM
Archbishop Antonio Ledesma listens as detained NDFP-Northern Mindanao official Alfredo Mapano shares his views on the peace process during a PEPP conference in Cagayan de Oro City on June 28, 2013. MindaNews file photo by H. MARCOS C. MORDENO
CAGAYAN DE ORO (MindaNews / 01 December) — A local court had dismissed the cases against 17 NGO workers detained in Agusan del Sur for kidnapping and robbery charges almost six months ago, but their lawyers only got their copies of the decision on Wednesday morning, Dec. 1.
In his decision dismissing the cases and ordering the release of the accused, Judge Fernando Fudalan Jr., of the Regional Trial Court Branch 7 in Bayugan City said they have been detained for over a year without the "benefit of a speedy trial" following delays by the prosecution.
The 17 accused were mostly members of Karapatan, Alliance of Concerned Teachers, Kadamay and other organizations in Northern Mindanao.
Fudalan also assailed the use by the prosecution of "John Does" in the arrest warrants for the NGO workers.
He said for "John Doe" warrants to be valid, they should have the description of the appearance of the accused, which the prosecution failed to establish.
The decision was promulgated last June 10 but the lawyers of the accused only got their copies on Wednesday morning.
Thirty-five other accused, including former National Democratic Front consultant Alfredo Mapano, are still detained in Agusan del Sur to answer murder charges filed against them.
Mapano was arrested on Nov. 27 last year at the PHIVIDEC compound in Tagoloan, Misamis Oriental where he was working as a corporate social responsibility officer.
Known collectively as the "Sibagat cases," the arrest of the 52 NGO workers sent shock waves to human rights advocates here.
The military filed the cases against the 52 NGO workers after New People's Army rebels raided a paramilitary camp in Barangay Tubigon, Sibagat town in Agusan del Sur last Feb. 19, 2019.
Two soldiers and 12 members of the Civilian Armed Force Geographical Unit were taken hostage by the rebels but were released unharmed later.
Cagayan de Oro Archbishop Emeritus Antonio Ledesma, co-convenor of the Philippine Ecumenical Peace Platform hailed the court's decision to release the NGO workers.
"They were vindicated by the decision," Ledesma said.
Now that they are freed, Ledesma said the NGO workers can now continue their humanitarian work in their respective places.
He said news of the decision was timely because it came a day before the start of the celebration of the Mindanao Week of Peace on Thursday. (Froilan Gallardo/MindaNews)