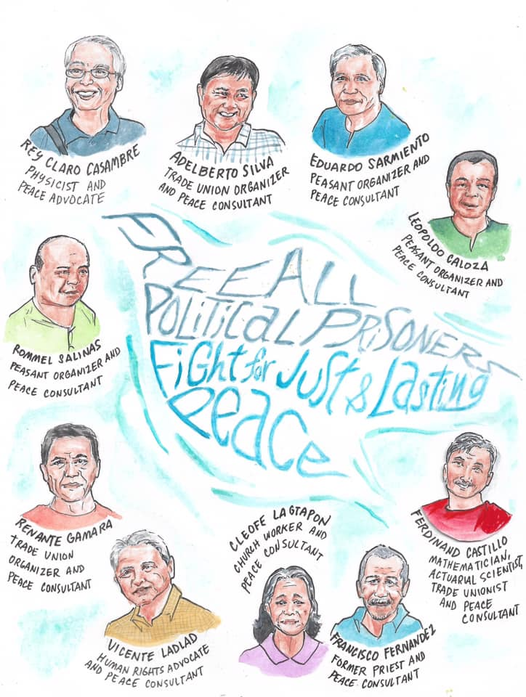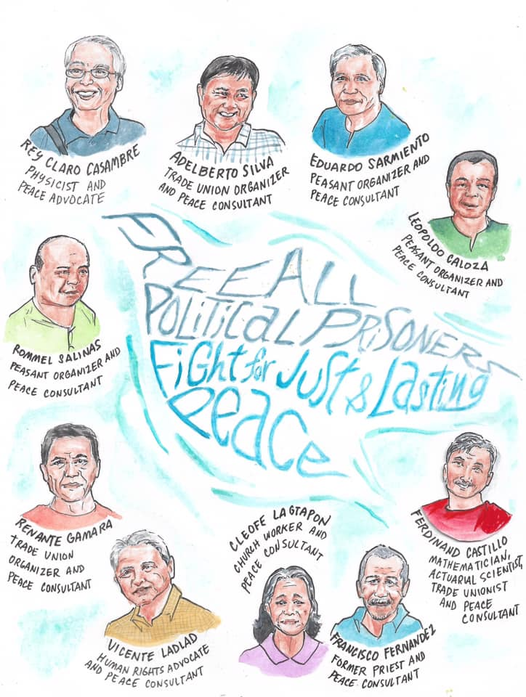 Pilgrims for Peace
Press Statement
3 December 2021
Today, 3 December, the Pilgrims for Peace stands in solidarity with the world in commemorating the International Day of Solidarity with Political Prisoners. Living in a country with a long history of incarceration of political dissenters—with their number increasing tenfold at the time of the late dictator Ferdinand E. Marcos—we stand with the world and join the call to Free All Political Prisoners!
There are currently 652 political prisoners in prisons across the country, with more than 400 of them arrested under Rodrigo Duterte's administration. Ten of them are consultants to the peace negotiations between the Government of the Republic of the Philippines (GRP) and the National Democratic Front of the Philippines (NDFP).
It is nothing short of tragic that peace advocates and consultants are among such political prisoners. Rey Claro Casambre, 69 years of age, educator, activist, and executive director of the Philippine Peace Center, is jailed at Camp Bagong Diwa, Taguig City, with over 40 other political prisoners. Casambre, an NDFP peace consultant, was arrested on fabricated criminal charges three years ago.
Another NDFP peace consultant incarcerated at Camp Bagong Diwa is Vicente Ladlad, who was also arrested in 2018 on the basis of trumped-up charges. Casambre's and Ladlad's detention is a blatant violation of the Joint Agreement on Safety and Immunity Guarantees (JASIG), a bilateral agreement signed by the GRP and the NDFP.
The case of Amanda Echanis, daughter of slain NDFP peace consultant Randall Echanis, also deserves to be highlighted. Still detained with her infant child at Camp Adduro in Tuguegarao City, Cagayan, Amanda was arrested for illegal possession of firearms and explosives, a baseless but now typical charge used by state forces against activists. She is but one among hundreds of other individuals whose freedom has been taken away by the state simply because of their political convictions.
Nursing mothers like Amanda, along with elderly and ailing political prisoners, as well as couples arrested thus depriving their children of any parent, should be immediately released for humanitarian reasons. With the Covid-19 pandemic still raging, the urgent release of political detainees for humanitarian reasons continues to hang in the balance. Even the United Nations Human Rights Council, at the start of the pandemic, had already recommended the reduction of overcrowding in penitentiary institutions, especially in consideration of at-risk groups such as pregnant women, the differently-abled, the elderly, those with underlying health conditions, and political prisoners, among others. Unfortunately, this call has fallen on deaf ears in the Philippines.
The potential of the Writ of Kalayaan, a remedy introduced by Associate Justice Marvic Leonen in his separate opinion on the Supreme Court decision junking the plea of political prisoners for temporary release amid the pandemic, remains unrealized. In the face of possible outbreaks due to new and more transmissible variants of the Coronavirus, the unfulfilled promise of the Writ of Kalayaan is not just a lost opportunity but an affront against human dignity.
The Pilgrims for Peace decries the Philippine government's cruel inaction on this critical issue, a stark contrast to how quickly they fill up prisons with new inmates. That peace consultants and activists are locked up, while a convicted criminal like former first lady Imelda Marcos, a serial tax evader like presidential candidate Ferdinand Marcos Jr., and assorted plunderers of the people's money are all free to plan their return to Malacañang or maintain their hold on power, is simply unacceptable.
Peace advocates and freedom-loving Filipinos need to stand in solidarity with our brothers and sisters who are victims of political repression and are cruelly punished by these double standards that define our justice system.
The Pilgrims for Peace, in solidarity with peace advocates everywhere, reiterates the call to free all political prisoners in the Philippines and throughout the world.
Reference:
Fr. Ritchie Masegman
FBPage:@PilgrimsForPeacePH; email: pilgrims.peace.phils@gmail.com; +63998-348-9307
Artwork by Bulatlat's Dee Ayroso