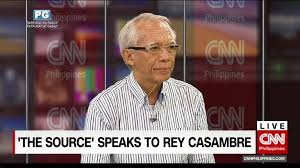 13 May 2021
Once again the national security top honchos have placed me in their cross-hairs. This time, the Anti-Terrorism Council has designated me as, of all things, a terrorist, along with the NDFP Chief Political Consultant, two peace negotiators and ten other publicly known peace consultants.
The first time was in 2006, when I was charged with "continuing rebellion", along with fifty others including progressive lawmakers known as the "Batasan Six". The Supreme Court eventually ruled the case without merit and ordered it dismissed in 2007.
The second time was in early 2018 when my name was listed along with more than 650 others– many of these aliases and names of deceased persons– in a DOJ court petition to proscribe the CPP and NPA as terrorist organizations. My name was removed from the list after I questioned in court the basis for its inclusion.
In both instances not an iota of proof or evidence was presented by my accusers to support their claims and charges against me.
The third was on 21 Sept 2018 when, in a widely viewed TV program, then AFP COS Gen Galvez and Deputy for Operations Gen Parlade singled out Satur Ocampo and myself as orchestrating, in behalf of the CPP, a totally fictitious "Oplan Red October", allegedly a broad united front campaign to oust Pres. Duterte. It was so ludicrous I actually laughed it off and jested to media that it was an "undeserved honor", not even being a member of any of the allegedly conspiring organizations or coalitions.
In the same media interview, Generals Galvez and Parlade proudly announced the AFP's proposal for a National Task Force to End the Communist Insurgency by mid-2019 employing a "whole of government" and/or "whole of nation approach".
I had not imagined I would be the first real victim of Gen. Parlade's red-tagging and terrorist branding under the EO 70 banner. Past midnight of Dec 7, two days after EO 70 creating the NTF-ELCAC was signed, I was arrested with my wife on the basis of totally fabricated charges alleging my participation in a Sept 13 early morning NPA ambush in a barrio I had never priorly been to nor heard of.
This is indeed military intelligence at its best! Why would I join an ambush 1500 kms from Manila a week before a crucial mammoth destabilizing rally I was supposedly coordinating? Did the state investigators miss the photos posted by the OPAPP on their FB page showing me with the HOR Peace Committee along with the OPAPP Secretary and GRP Peace Panel up to noontime of Sept 12? Was their surveillance team seated too far away from our dining table at a Chinese restaurant in Banawe, QC, to catch my animated conversation that late evening with a prominent political figure on the progress of the peace talks? How could I have flown to Davao City past midnight and made it to the hinterland ambush site before the break of dawn? Can an elderly civilian stranger casually walk in or gatecrash into a military operation without at least a getting-to-know-you and this-is-the-way-to-hold-and-fire-this-weapon briefing session, assuming one was strong and healthy enough to survive the rigorous trek?
Nobody, my accusers included, believes I am a terrorist.
The ATC's terrorist designation is just another nefarious device concocted by those who reckon they can and must go around or against the Constitution and the rules of law, fair play and common decency to silence those who speak and clamor for change.
This is really not just about us peace consultants, negotiators and advocates. The real targets of EO 70 and the ATA are the vision and quest for fundamental reforms that could and would bring just and lasting peace and prosperity. The foremost and ultimate victims are the Filipino people themselves.
The relentless and remorseless deception and lies, bloody repression and coercion have only served to expose the bankruptcy of EO 70 and the ATA. Hypocrisy has struck rock bottom with the desperately crude and laughable relabelling of redtagging and terrorist-branding as "truth-tagging".
Rather than rally and mobilize the entire nation and government, the horrendous, senseless and dreadful loss in lives and liberties coupled with the insulting underestimation of the public's intelligence daily alienate the people. These further enlighten and motivate them to persist in struggle.
I remain confident the people's will, truth and justice shall eventually prevail.
– Rey Claro Casambre