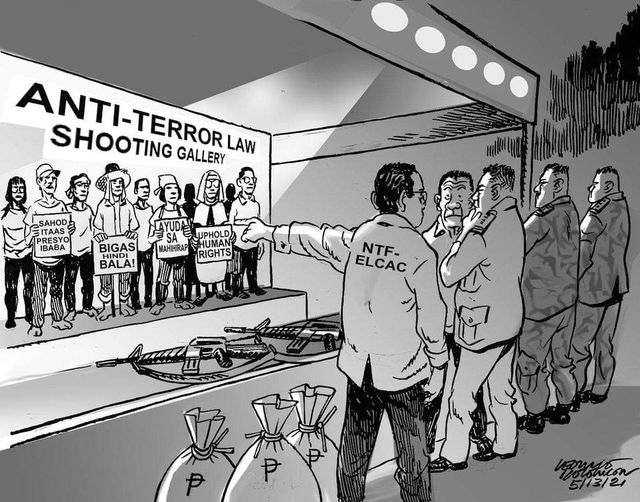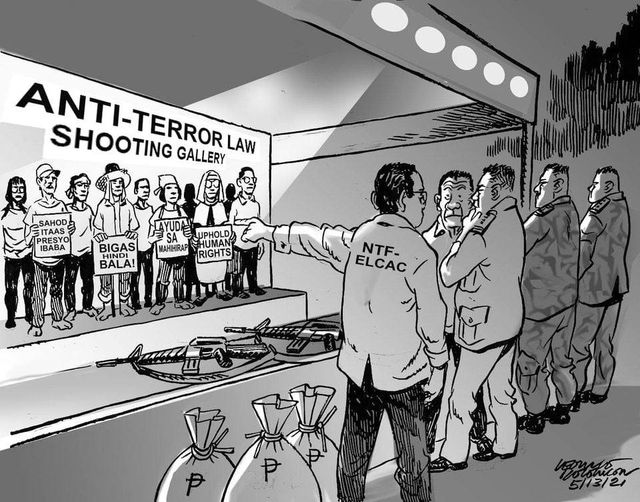 By Public Interest Law Center – Philippines
13 May 2021
Listing of peace consultants already proven baseless
The inclusion of most peace consultants and advocates, who participated in negotiations with the Government of the Republic of the Philippines (GRP), in Resolution Number 17 (2021) by the Anti-Terrorism Council (ATC) is a perturbing development after quiet, insistent efforts to reopen talks. Resolution Number 17 designates alleged Central Committee members of the Communist Party of the Philippines and the New People's Army pursuant to the Anti-Terrorism Act of 2020.
Rehashing a list from 2018, the ATC's enumeration of 19 personalities includes those who have already disclaimed to the court and the public ties to terrorist organizations and involvement in any terrorist activities.
In 2018, our clients Rafael Baylosis, Rey Claro Casambre, Vicente Ladlad, and Adelberto Silva submitted documents and proved to a Manila trial court that they were not connected to the Central Committee of the Communist Party or the New People's Army. Not only had they shown long track records in the legal democratic movement, the court aptly dropped their names from the proscription petition under the Human Security Act because there was no evidence linking them to terrorist organizations or activities.
How can the ATC, three years hence, claim to have "verified and validated information" against these peace consultants when it has already been proven in court that there is none? The ATC regurgitating false assertions has been a most dangerous weapon especially in the heat of oral arguments on the terror law.
Casambre, a petitioner in one of the docketed petitions against the ATA, has correctly stated that he faces credible threat of prosecution under the new terror law. With Casambre designated and "injured" by the ATC, the terror law petitions now have a surer footing in court with his established legal standing to file suit.
Designation is a highly contentious provision in the terror law, and particularly for individuals, an immensely suspect mechanism for political persecution. The ATC's move to implement a law void and unconstitutional is self-destructive; in the end, the unavailability of remedies, the grave violations of due process, and the ambiguity of the law will be brought to fore.
Peace consultants, selected and appointed for their expertise in the topics of the talks agenda, agreed to participate and contribute their knowledge in the peace negotiations, under protection of the Joint Agreement on Security and Immunity Guarantees (JASIG) afforded for all consultants of both panels. With the breakdown of the talks, they have been politically persecuted, charged with trumped-up cases in court, illegally arrested and detained, and vilified in public.
The inclusion of peace consultants in the list, obviously, is a direct consequence of their role in the peace talks and a clear disincentive to participate. With this move by the GRP, it closes possibilities for a peaceful resolution of the root cause of the armed conflict.
As the constitutionality of the ATA is deliberated in the Supreme Court, the GRP in sheer folly has unsheathed its sword of tricks and manipulation using the dangerous provisions of the ATA. We must be prepared to resist further violations of civil and political rights. #
#StruggleForJustPeace #PeaceTalksItuloy
#JunkTerrorLaw #Abolish_NTF_ELCAC #EndStateFascism
#JusticeForVictimsOfStateFascism #FreePoliticalPrisonersPH
#DutertePalpak #DuterteTraydor #OUSTDUTERTENOW