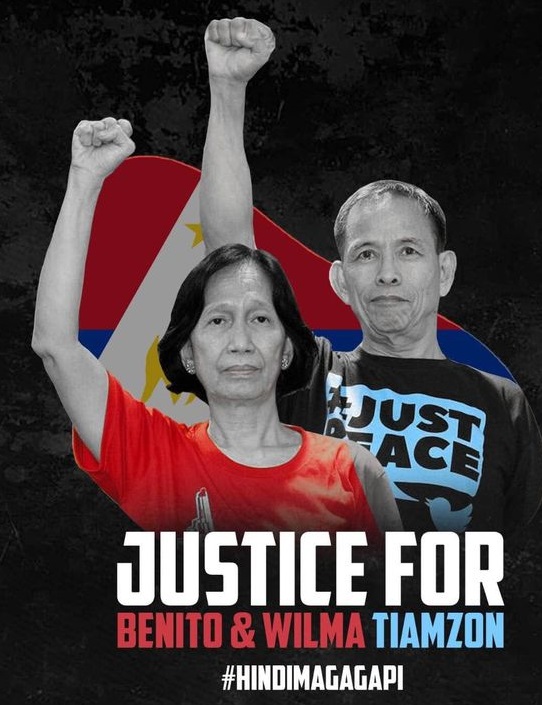 National Union of Peoples' Lawyers
PRESS STATEMENT
April 25, 2023
In reaction to our statements calling for accountability for the reported inhumane treatment and brutal killings of our clients Benito Tiamzon and Wilma Austria, the NTF-ELCAC Legal Cooperation Cluster pointed out in a statement the evidentiary rule that "burden of proof lies on those who assert" and that "the mere fact that "these 2 CTG-affiliated groups are calling for a probe" is "a clear proof that they are lying and can't prove their perverted claim."
These types of comments are non-sequitur and unduly place the burden on human right lawyers and defenders to conduct a probe, which the government is bound to do, gather evidence, and initiate prosecution of the reported war crimes.
They also sidestep the fact that the military claimed at the first instance and for the longest time a "waterborne interdiction operation conducted against a hostile motorized boat" that likely included the Tiamzon spouses. It is also a matter of fact that military sources took down their social media posts which reported the Tiamzon spouses as among the casualties of the said operation.
Hence, it was neither the NUPL nor many other concerned entities and individuals who were alarmed with the subsequent contrary report that the Tiamzon spouses and their companions were supposedly captured, tortured, murdered, and desecrated especially because there are abundant precedents and predictable patterns to support a reasonable basis to question the official military account.
Instead of welcoming a legitimate call that seeks to uphold international humanitarian law or the law of armed conflict and settle once and for all these contrary accounts, it is regrettable that colleagues in the legal profession and co-officers of the court – coming from the top officer of the government's legal arm no less – would need to resort to hateful and gratuitous name-calling against fellow lawyers by casually labeling us as "CTG (communist terrorist group)-affiliated" or "CPP NPA NDF front" sans competent, credible and admissible evidence.
This has unfortunately endangered our lives and impeded the independent discharge of our professional duties, especially since we in NUPL are compelled to handle cases that most of our colleagues in the profession cannot, would not, or do not – for reasons we respect – handle.
While we may differ in views, opinions and positions – just like we do in court – we should all endeavor to keep our professional dealings civil and fair, use only dignified language, avoid low blows, and refrain from promoting an unsafe environment in any setting, as we are mandated to do as lawyers under the Code of Professional Responsibility and Accountability and out of basic respect for our fellow human beings.
We expect nothing less from our fellow lawyers. Let us keep it fair and square, if you please.#
References:
Atty. Ephraim B. Cortez
NUPL President | +639172092943
Atty. Josalee S. Deinla
NUPL Secretary General | +639174316396