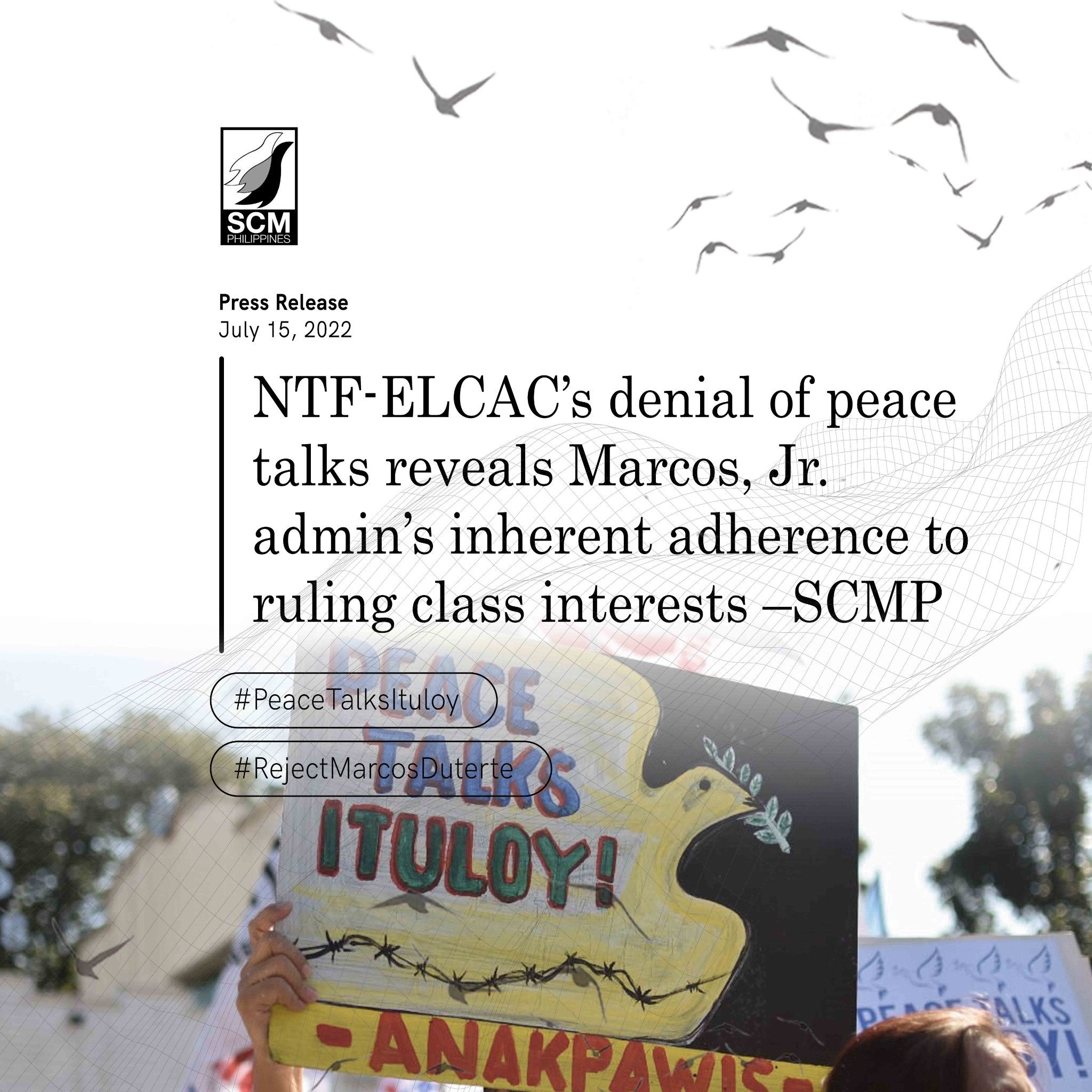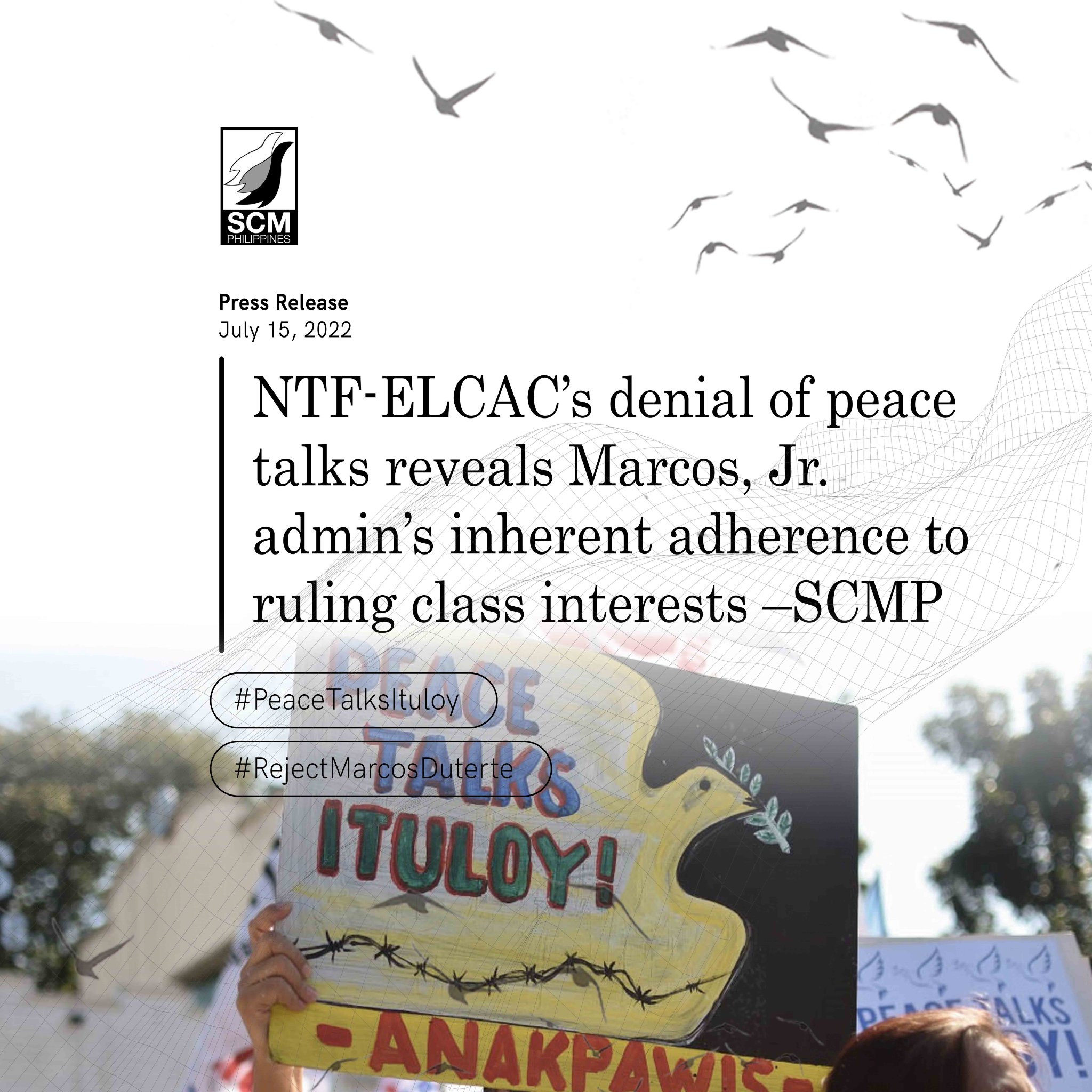 Student Christian Movement of the Philippines (SCMP)
July 15, 2022
Ecumenical youth group Student Christian Movement of the Philippines (SCMP) decries the recommendation of the National Task Force to End Local Communist Armed Conflict (NTF-ELCAC) to discontinue the peace talks between the Government of the Republic of the Philippines (GRP) and the National Democratic Front of the Philippines (NDFP) to NTF-ELCAC chairperson President Ferdinand Marcos, Jr. The proposal was announced during the first executive committee meeting under the new administration.
"Simply put, the Marcos, Jr. regime and its militarist peace spoilers are not interested in peace," said Kej Andres, SCMP National Spokesperson. "They would rather continue the failed militarist and violent way to deal with belligerence. They're all wasting people's lives as well as taxpayer's money," he added.
Scores of human rights have been recorded under the Duterte administration's counter-insurgency program. From July 2016 to December 2021, about 426 politically-motivated extrajudicial killings have been committed, while more than 470,000 have been affected by forced evacuation due to militarism in the countryside. For 2022, NTF-ELCAC has been granted ₱17.1 billion, while considerable budget increases were allotted for AFP and PNP despite lack of social services.
The NTF-ELCAC, however, recommends localized peace talks, according to peace adviser Carlito Galvez.
"The government falls deaf on the fact that landlessness, extreme poverty, lack of jobs, unabated rise of prices, and other roots of armed conflict are not simply local problems—these should be dealt through national policies through a president that has strong political will," Andres said. "Resorting to peace talks show that Marcos, Jr. and his national government is ill-capacitated to solve problems on a national scope," he added.
Marcos, Jr. would be the first president after martial law who would not pursue peace talks between the GRP and NDFP after winning the elections. Galvez said that "all peace talks ended up to nothing."
"The erosion of peace talks has been due to GRP's refusal of socio-economic reforms long-sought by the Filipino people. Immediate refusal of peace talks under Marcos, Jr. this early into his rule exposes his administration's adherence to the greedy and exploitative interests of the ruling classes," Andres said.
In the end, SCMP calls other peace advocates and freedom-loving Filipinos to stand for human rights and socio-economic reforms that are also being advocated under the peace talks. According to Andres, "we also call everybody to heighten their vigilance against human rights violations under the Marcos, Jr. regime. Usually, the fall of peace talks would mean worsening of the human rights situation in the Philippines."
"What the people demand is genuine national peace talks based on addressing the socio-economic roots of armed belligerency in the Philippines. As peace advocates, we denounce the militarists who spoil the peace talks and we reaffirm the need to solve the armed belligerency through addressing the socio-economic roots of poverty," Andres ended.
Reference:
Kej Andres,
SCMP National Spokesperson