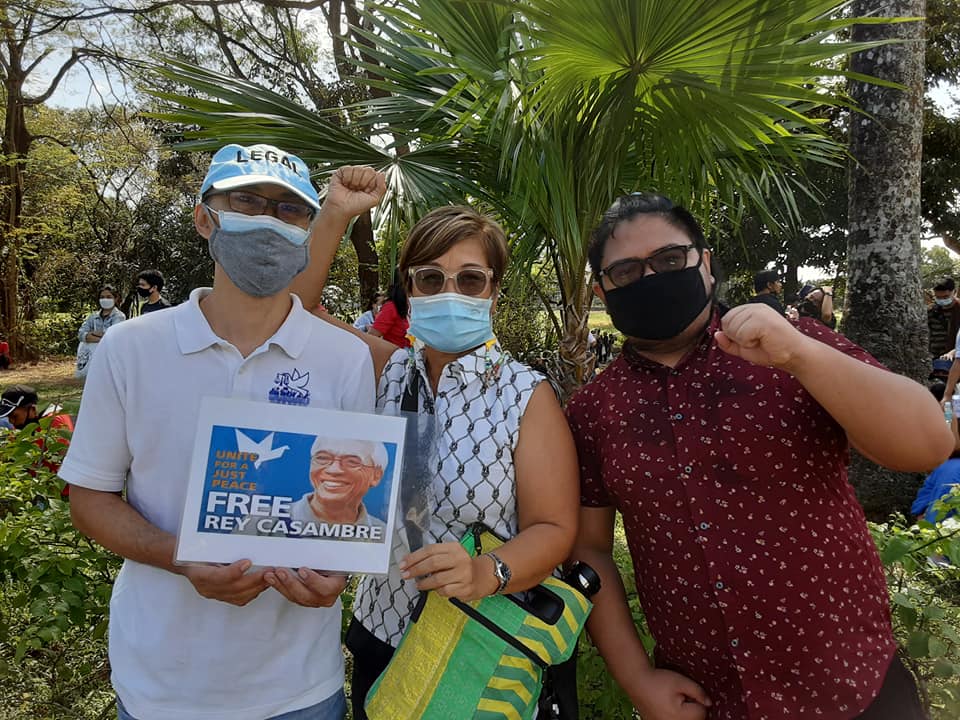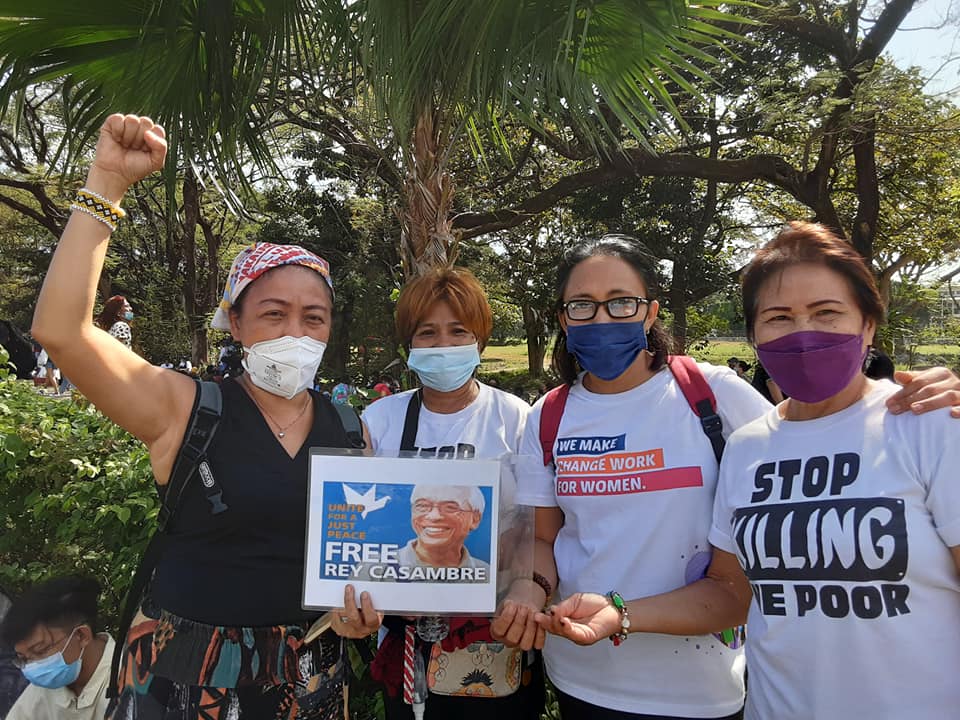 Unite for a Just Peace, Free Rey Casambre
April 26, 2022
We demand that the Duterte administration withdraw the more than three years fabricated and ridiculous charges of illegal possession of firearms and explosives against peace advocate and political detainee Rey Casambre as the Bacoor RTC Branch 113 hears his case.
The Criminal Investigation and Detection Group (CIDG) presented physical evidence of its charges versus Casambre to the court Monday. But this is a reset of the February 22 hearing where the CIDG's attempt to submit digital photos of the Colt pistol and fragmentation grenade as evidence was not admitted by the court.
We believe that the court should junk this made-up case altogether. To recall, Rey and wife Cora were violently arrested in December of 2018 in pitch-dark midnight on the couple's way home from a friend's funeral and their grandson's birthday. Police and military vehicles cut and surrounded them along Molino Avenue, and armed operatives started pounding the couple's car windows with their guns, angrily commanding the two elderly to alight their vehicle.
For fear of being "tokhang" victims purportedly "nanlaban", they alighted but were dragged away from their vehicle only to be shown, after half an hour of waiting, a handgun, a grenade, and an alleged detonating cord supposedly found in their car. The "evidence" were obviously planted.
May we remind the Honorable Court that the judge City Fiscal who had earlier conducted the inquest had described the CIDG's story preposterous — finding the "evidence" stashed in the dashboard with a laptop, claiming that these were seen "in plain view" from outside the car, otherwise the arrest would have been hands down illegal as the operatives had no search warrant for the couple. Cora was thereby released.
Rey would also have been released but the regime slapped him with another set of non-bailable charges – murder and attempted murder in the hinterlands of Davao Oriental – to keep him behind bars.
This government has taken away Rey's freedom to keep him from teaching many about the sore lack of social justice in the country and building unities towards genuine peace that will benefit the Filipino majority socio-economically.
The Duterte administration must withdraw all false charges against Rey Casambre and over 700 political prisoners and tens of thousands more incarcerated because they were falsely accused.
We likewise call for the withdrawal of the similarly false and trumped-up charges vs RCC in Lupon, Davao de Oro, which was the basis for the arrest warrant served on RCC in Bacoor.
Should this clamor fall on deaf ears, may the candidates speaking in well-attended rallies boldly talk about the cowardice of this government in jailing its adversaries instead of painstakingly forging a just-based peace. May the next administration resume the peace negotiations to be able to address the roots of armed conflict and open all the necessary avenues to build a solid just-based peace constituency.
#FreeReyCasambre
#FreeAllPoliticalPrisoners
#FreeAllFalselyAccused
#UniteForAJustPeace
#FightTyranny
#NoToDuterteMarcos2022
Reference: Free Rey Casambre Campaign
Photos from International Human Rights Day Mobilization and Luntiang Republica Farm Tour/ December 2021