The peace group appealed to the government "to stop aerial bombings as these result to massive destruction and collateral damage"
Jose Torres Jr. November 8, 2021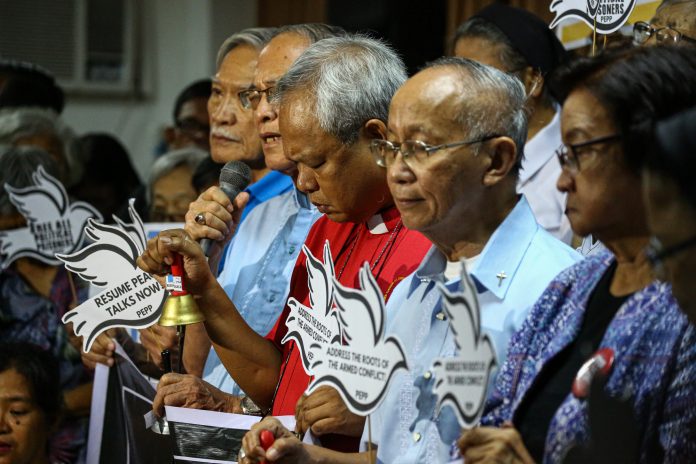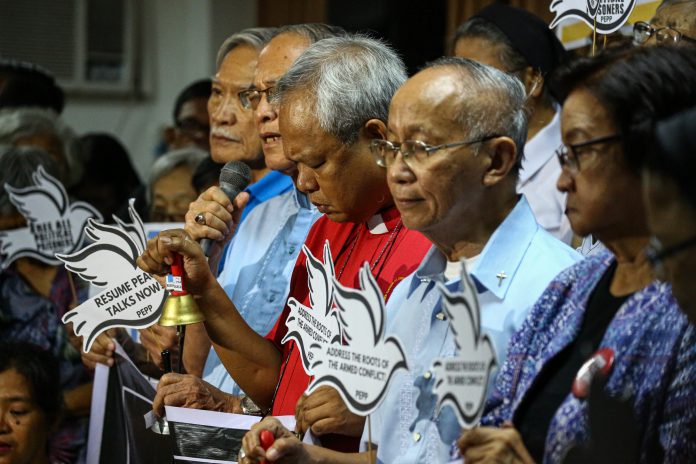 Ecumenical Church leaders leaders hold a peace forum to warn against what they described as the "escalating atmosphere of fear and uncertainty" in the country. They called on the government to resume peace talks with communist rebel on Sept. 12, 2019. (File photo by Jire Carreon)
The Philippine Ecumenical Peace Platform (PEPP) has raised "concern and alarm" over what it described as the "escalation of violence" in the wake of the killing of rebel leader Jorge "Ka Oris" Madlos in the southern Philippines.
The Armed Forces of the Philippines claimed that Madlos was killed in an encounter with government forces on October 29, but leftist groups said the rebel leader was killed in an ambush while on his way to the city.
The military said Madlos was a top ranking official of the Communist Party of the Philippines and its armed group, the New People's Army.
A military statement described Madlos as the "top most wanted NPA commander in the country."
Following Madlos' death, the Philippine military began bombing operations in areas in the hinterlands of the province of Bukidnon where communist rebels are believed to be hiding.
In a statement on November 8, PEPP said the bombings began on October 30, and after a temporary halt, started again on the evening of November 2.
"Bombs rained through the night causing fires and trauma to the communities that inhabit the area," read the PEPP statement signed by Catholic and Protestant Church leaders.
The peace group appealed to the government "to stop aerial bombings as these result to massive destruction and collateral damage."
"The bombing of communities is almost always indiscriminate, and the victims are more often non-combatants and innocent civilians," it said.
"[It] goes against provisions in International Humanitarian Law and has long-term implications for the traumatized communities," read the statement signed by Archbishop Emeritus Antonio Ledesma, Protestant Bishop Rex Reyes Jr., Bishop Reuel Norman Marigza of the National Council of Churches in the Philippines, Dr. Aldrein Penamora of the Philippine Council of Evangelical Churches, Benedictine Sister Mary John Mananzan, and Bishop Emeritus Deogracias Iniguez Jr.
They said the escalation of the armed conflict goes against the February 2021 UN Security Council resolution calling on member states to support a "sustained humanitarian pause" to local conflicts, to ensure people caught in conflict have access to lifesaving vaccinations and treatments.
"In light of this, we reiterate our appeal to the government to heed the call of the international community to prioritize the country's healing instead of further escalating the armed conflict," read the group's statement.
The group said it "remains firm in its conviction that lasting peace in our nation will not be won by the power of war, but by addressing the root causes of the armed conflict through formal peace talks."
The Church leaders reiterated their call for the Philippine government and the communist rebels "to return to the negotiating table and stop the escalation of violence in Mindanao and throughout the Philippines."
© Copyright LiCAS.news. All rights reserved. Republication of this article without express permission from LiCAS.news is strictly prohibited. For republication rights, please contact us at: yourvoice@licas.news