Philippine Peace Center
4/F Kaija Bldg. 7836 Makati Ave cor Valdez St.,Makati City, MM
Tel-(632) 8993439; Fax-(632) 8993416
Press Statement
28 April 2015
Once again, a young Filipina is about to lose her life by execution in a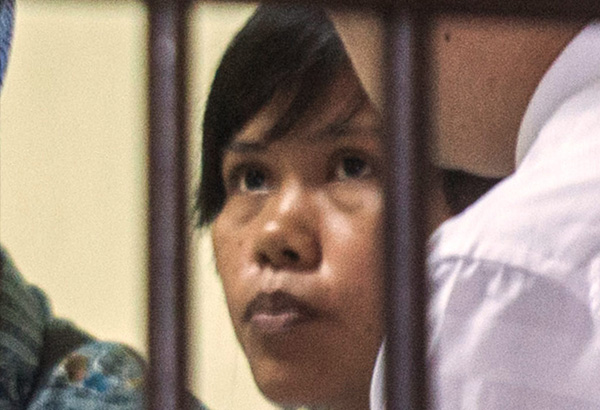 foreign land. Twenty years after Flor Contemplacion was hung in the gallows in Singapore, another innocent Overseas Filipina Worker, Mary Jane Veloso, is condemned to die by firing squad in Indonesia. More than a hundred have gone in between. Names and faces that had briefly flashed on our TV screens and newspapers, then fade away to oblivion. How many more shall follow?
Like millions of our countrymen, Mary Jane's travails were born out of sheer desperation coupled with a burning desire to earn more for her loved ones, even if it meant long lonely periods of separation , physical hardships, and the all too real risk of being duped by their recruiters and maltreated by their foreign employers. Mary Jane's only mistake, if it can be called one, was for being too trusting of her fellowmen, especially her own "kinakapatid" while being too daring and self-sacrificing to face unknown consequences . Like tens of millions of our OFWs, she was ready to pay any price to lift her family from the depths of poverty and misery.
Even with death squarely staring at her face, Mary Jane shows her fortitude and paramount concern for her family's wellbeing above her own as she comforts her children, parents and siblings from their anguish, calmly and courageously accepting whatever fate should befall her.
We cannot in conscience merely sit back and watch while someone with the tender heart and iron will as Mary Jane is unjustly tried and condemned to die. If she dies, the hopes and future of her loved ones, nay, of millions of other Filipinos, could die with her.
We deplore the Philippine government's long-standing policy and practice of intervening into our OFWs' cases in foreign courts only after a conviction has been passed upon them, and doing so only perfunctorily in most cases. Under President Aquino's term alone, seven OFWs have been convicted and exectuted in foreign lands. Mary Jane was convicted five years ago, in 2010 after what even the UN has labelled an unfair trial, as she was not provided a competent interpreter. And it was only two weeks ago, pressed by the progressive organizations assisting the family spearheaded by Migrante International and the National Union of Peoples' Lawyers, that the Philippine government belatedly filed the appeal for a second judicial review.
The case of Mary Jane clearly exposes this official and institutionalized indifference, negligence, callousness and shameless hypocrisy at its worst. The OFWs, in the first place, were forced to seek greener pastures abroad because they could find no hope here at home to alleviate their families' condition. Landless peasants and other jobless Filipinos migrate in droves from the countryside to the cities seeking employment and a decent livelihood, but there are no industries to provide jobs for them. In a cruel twist of irony, it is the OFWs' remittances, squeezed out of their blood, sweat and tears, that keep our economy afloat and our people more tolerant of the entire social and economic system. There is no excuse for not providing legal protection and assistance, at the outset, to those who government lionizes as "Bayani ng Bayan".
In this connection, we reiterate our call for the immediate resumption of the GPH-NDFP peace talks as the worsening social and economic crisis relentlessly victimizes Mary Jane Veloso and tens of millions of our countrymen. We call on the two Parties to muster the political will to negotiate the Comprehensive Agreement on Social and Economic Reforms (CASER) especially in the light of the continuing global and domestic economic crisis that threatens to wreak more hardships and misery for our people.
Time is fast running out. Gone is the faint glimmer of hope for staying the execution by appealing for a second judicial review on the grounds that she is a victim of human trafficking, not the drug trafficker she had been convicted for. There are moral and legal arguments for this on the basis of international law. But time—or the lack of it – stood as the most formidable obstacle to attaining justice for Mary Jane and saving her life. Yesterday, the Indonesian courts rejected this second appeal on technical grounds. She has been moved to the island where she could be executed anytime after 72 hours.
Mary Jane's only hope now lies in the Indonesian authorities' heeding the resounding cry here and abroad for clemency and justice. We call on everyone to add our voices to this cry.
Save Mary Jane Veloso!
Protect and care for all our Bayani ng Bayan OFWs!
Carry out genuine land reform and national industrialization to provide jobs and decent livelihood here at home for our people!
Reference: Rey Claro Casambre, Executive Director; Mobile # 09436861956