Copyright © 1995 by the Philippine Peace Center
4th Floor KAIJA Building
7836 Makati Avenue corner Valdez Street
City of Makati, Philippines
(This pamphlet may not be reproduced in full or in part without prior authorization in written form from the authors or the PPC.)
Editing: Dr. Carol Pagaduan-Araullo
Lay-out and Cover Design: Marla Garin
Cover Photo by Jess Yuson
publsihed in the Philippine Daily Inquirer, 17 June 1995
Set in Book Antiqua and Times New Roman by
SIPAT Publications and Design Studio
Philippines
INTRODUCTION
The PHILIPPINE PEACE CENTER IS PUBLISHING THIS PAMPHLET, the second in the series of PPC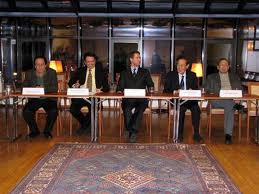 policy papaers, as part of its continuing commitment to a just and lasting peace in our country. In particular, the PPC wishes to contribute in a modest way to deepening understanding of the historical reasons why Filipinos continue to take up arms to redress economic and social grievances.
The title, "Gains, Problems and Prospects in the Peace Talks between the GRP and the NDFP," is that of the multisectoral forum held on 16 June, 1995 ten days before the opening of the formal GRP-NDFP peace talks in Brussels, Belgium. It gathered four individuals who are among those in the best position to speak on the subject, being staunch advocates and direct participants in the GRP-NDFP peace process at some point in its protracted and tortuous history.
Former Senator and now Congressman Wigberto E. Tañada gave the keynote address. He stressed that "the heart of the peace process is the resolution of the causes of war that have fragmented our nation and blocked our development." He rued the fact that the peace talks have not gone beyond talking because the Ramos government has had not much to show by way of concrete and meaningful reforms.
Mr. Vic Ladlad, former political detainee, BAYAN National Council member and a leader in the human rights movement, talks about the two differing – and essentially diametrically opposed – perspectives of the GRP and the NDFP on the issue of peace especially its comprehensive underpinnings.
For his part, Atty. Romeo T. Capulong, general legal counsel to the NDFP Peace Panel, clinically dissects the substantive as well as procedural obstacles that have been hurdled in more than two years exploratory talks and what the immediate prospects are in light of the formal opening on June 26, 1995.
Mr. Satur Ocampo, former chief negotiator of the NDFP peace panel in the failed 1986 peace talks with the Aquino government, served as the main reactor to the three speakers. He speaks of what can be reasonably expected to lie ahead in the talks with the hindsight of one who has been in the thick of a similar process in the past.
We wish to acknowledge the Inter-Church Program Forum, a gathering of progressive members and leaders of different Philippine churches for sponsoring this timely and enlightening forum.
CAROL PAGADUAN – ARAULLO
Executive Director
Philippine Peace Center
THE PEACE TALKS SHOULD GO BEYOND TALKING
Congressman Wigberto Tañada
Mga kaibigan at kapanalig ko sa paghahangad ng kapayapaan, Laging nakasisiya ng loob na makaugnayan ang mga kapwa kong tagapagtaguyod ng kapayapaan. Karangalan ko ang maging pangunahing tagapagsalita ninyo sa pagtitipong ito para sa kapayapaan sa ating bansa.
In ten days' time, formal talks will finally open between the National Democratic Front and the Philippine government. This is certainly a most welcome development after a long impasse of stalled negotiations between the two sides.
Personally I look forward to having the talks get off the ground as scheduled on June 26 after what has been described as the endless preparatory phase of interminable initial negotiations.
Indeed, there is much to be happy about the latest breakthrough in the peace process. Of the three major armed conflicts in the country, the struggle of the NDF and its allied organizations has proven the most intractable. Perhaps this is because the communist movement is the longest running revolutionary struggle in the Philippines and in this part of the world that retains a significant armed force, sizeable mass following and nationwide scope.
This is not to diminish the significance of the Moro rebellion which also has deep historic roots or the seriousness of the military mutiny. But in the eve of the centennial of the Philippine Revolution, it would do good for the government to train its weak eyesight on the historic mass movements whose deep-seated grievances have fed the fires of four centuries of rebellion.
WHATEVER HAPPENED TO THE QUEST FOR BASIC REFORMS?
Why such struggles should persist at all is a question that should preoccupy this government more than designing a new flag. Based on fearless forecasts of military intelligence, the communist movement should have long folded up after acrimonious internal debates. Moro rebel forces also should have long disappeared from the face of depressed and most neglected areas of our country like my own homeprovince of Quezon. In the case of the Moro rebellion, new armed challenges have reportedly arisen in the form of the Abu Sayyaf. In the case of the underground left, in spite of military charges of their ideological irrelevance, the social grievances they raise continue to make them politically relevant among people leading lives of quiet desperation.
It is in this context that I appreciate the relevance of the theme of this forum:
"Gains, Problems and Prospects of the Peace Talks Between the GRP and the NDF." Yet much as I would want to discuss the particular topic you have assigned me today – "Building on the Initial Gains of the Peace Talks between the GRP and NDF" – there is a related yet more immediate issue I would like to raise.
What has government already done to directly address the root causes of the armed conflict? What has happened to the quest for basic reforms?
In this regard, let me stress. While it is true that talking is better than not talking at all, talking should not be the main focus of the peace process. The heart of the peace process is the resolution of the causes of war that have fragmented our nation and blocked our development. The objective of the peace process is to carry out the urgent agenda for economic, social and political change that would resolve the problems underlying the armed conflicts.
Government peace efforts should be measured based on the realization of this paramount objective. Unfortunately, after nearly three years of peace overtures, the Ramos government has nothing concrete to show by way of actual reforms. As no less than former National Unification Commission chairperson Haydee Yorac has noted, the focus has been directed largely on negotiations as if these were the sole components of the peace process. The quest for reforms has been shunted to the sidelines.
This brings me to state that although this government's peace campaign has succeeded in bringing rebel forces to the negotiating table, the peace process has not gone further than talks because the government has not carried out substantive reforms. The government, it would seem, prefers resorting to endless dialogue because it is neither prepared nor ready to undertake concrete reforms that address substantive social issues.
Apparently, the government believes that dialogues and amnesty will by attrition wear down the dissidents and that time will at length decimate their ranks. This raises questions about the real motive of government in undertaking peace talks. Is it to force the rebels to the negotiating table in order to neutralize them? To coopt them? And ultimately, to break them?
It may be true that ideological wranglings have broken the ranks of the Left. But the social grievances raised by them are not eradicated by factionalism. Dialogues alone do not erase social grievances. On the contrary, endless and undirected dialogues fuel the fires of unrest and dissidence. In the end, reforms are the only real guarantor of a just and comprehensive peace as well as the real keeper of an enduring peace.
PHILIPPINES 2000 NOT THE ANSWER TO CHANGE
Now when we speak of reforms, there should be actual evidence of these. By no means do we refer to the 5.2 percent GNP rate for the first quarter of this year which is being trumpeted as proof of economic success. There is a big difference between growth statistics that do not trickle down to improve people's lives and reforms which mean changing things in a fundamental way.
The defunct NUC, of which I was a member of, had defined major social, economic and political reforms that must address the following root causes of armed conflicts: 1) poverty and economic inequity, 2) poor governance, 3) acts of injustice or abuse and problems with the administration of justice, 4) structural inequity in our political system, and 5) exploitation and marginalization of cultural communities.
But based on its record, the Ramos government since its takeover in July 1992, has been unwilling to undertake painful structural and redistributive reforms that would immediately redress these problems. In a country with the worst land concentration problem in East Asia, it has relegated agrarian reform to the sidelines.
This is in marked contrast to the policy of previous governments, including even the Marcos dictatorship, which had traditionally made agrarian reform their centerpiece program, even if only on paper.
Today, the Ramos government is concentrating on promoting Regional Industrial Centers in key areas outside Metro Manila, ostensibly " to transform rural areas into net contributors to economic development." This scheme encourages conversions of prime agricultural lands to industrial estates to the detriment of the agricultural sector. In fact, the scheme, which ignores the concerns of agriculture, food-sufficiency and the environment, is meant to circumvent land reform. It creates new pressures that in the end only foment greater unrest, especially among the peasantry and the indigenous peoples who are the most disadvantaged by the industrial estates which encroach or have outrightly grabbed their lands.
This scheme is part and parcel of the Philippines 2000 plan which is promised to fast-track NIC-hood for the country by the turn of the century. Liberalization, globalization, privatization, deregulation and structural adjustments according to IMF-WB prescriptions are the macro bywords of this medium-term plan.
Yet what this plan does not mention is what is most important. It makes no reference to the inequitable, anti-Filipino and unsustainable character of growth taking place. It is silent on the deleterious effects of a flawed strategy which instead of promoting social peace further aggravates existing social conflicts.
Its trumpeted process of growth is actually an enclave growth limited to a few areas like Subic, Clark and parts of Cebu, Laguna and Cavite and a few speculative businesses like the stock market, real estate, shopping malls and duty-free shops. Only a handful elite benefit from this uneven growth distribution. Majority of the people remain unaffected by the process and even end up as losers.
In my home province of Quezon, which is part of the vaunted Calabarzon, people have yet to taste the fruits of growth. Half of our barangays still have no electricity or potable water. Seven out of ten live in poverty. Indeed, as a survey by the Social Weather Station found in April 1994, 70 percent of overall Filipinos considered themselves poor. This was virtually the same as the 68 percent who were classified as poor in a survey in April 1992 just before Ramos took power.
The pattern of growth upheld by Philippines 2000 is heavily biased toward foreign business rather than Filipino entrepreneurs, in violation of the constitutional mandate for a self-reliant economy effectively controlled by Filipinos. It is an import-dependent and debt-driven growth that is not filtering into the economy but widening trade deficits and exacerbating the country's debt problem. It has not done anything to ease high unemployment and underemployment, or bridge the widening gap between cost of living and nominal wages. It is an unsustainable growth process which can lead to another economic bust in a year or two.
FLAWED GOVERNMENT PROGRAMS AGGRAVATE SOCIAL CONFLICT
Indeed, the scenario of a Mexican economic collapse like what happened in January this year is not far-fetched for the Philippines. Both economies share certain striking features, especially since Filipino technocrats have utilized Mexico as some kind of a role model. These features include huge foreign investments in speculative undertakings, debt dependence, trade liberalization, collapse of certain local industries and agriculture, and huge trade deficits despite export increases. The only major difference is the large number of OCWs in the Philippines whose remittances, estimated at P7 billion a year, literally serve to cushion economic stresses.
There is also another interesting similarity that Mexico and the Philippines share – a long tradition of peasant and labor resistance. In the case of Mexico, for 20 years there was no serious insurgency however until the Zapatista-led revolt of the Indian people of Chiapas. The uprising erupted in a maize-growing region that suffered due to the flood of cheaper maize from Mexico's northern neighbor, the U.S. It was in fact timed to protest the opening day of the U.S.-dominated North American Free Trade Agreement or NAFTA, of which Mexico is a member.
Altogether, the similar features of the Philippine and Mexican patterns of development demonstrate the potential for conflict. In our country, the government's various development programs, dubbed by human rights groups as "development aggression," are instigating new flashpoints of conflict among many indigenous peoples and peasant folk whose lands and livelihood are being threatened.
Clearly, the Ramos growth strategy is sowing more problems than it is creating solutions. By ignoring the urgency of instituting deep and genuine structural reforms, the government seems to expose its inherent failure to forcefully address the challenge of growth sustainability and equity, as well as to check the rampant criminality and endemic corruption rapidly eroding the moral fibers of society.
It is therefore not surprising that the government budget has repeatedly reflected a glaring bias against prioritizing resources for key areas of social reform. A point in fact is the declining budget for the Department of Agrarian Reform – from P2.1 billion in 1993, to a 50 percent cutback of P1.03 billion in 1994, to a measly P823 million in 1995. Another example is the reduced 1995 budgets of crucial social services like housing and health care programs. Still another example is the low allocations given to the most needy and neglected regions like the ARMM and Cordillera, as compared to more favored regions.
The government peace strategy, as I've already stated before, is similarly biased against basic reforms and instead concentrates on high-publicity but piecemeal measures like bilateral negotiations which are often sporadic and irresolute. In the case of the NDF-CPP-NPA forces, the much vaunted confidence-building measures have fallen short of achieving their desired effectivity. The repeal of the Anti-Subversion Law has not enticed the Communist Party to abandon armed struggle and join the parliamentary arena. The mass release of political prisoners has not materialized. The penchant of government prosecutors to charge political prisoners with common crimes further casts doubt on the sincerity of government to forge genuine reconciliation and peace.
As for amnesty, I have already criticized many times the dubious framework of making amnesty the centerpiece of the Ramos peace program. Amnesty, separate from genuine and sincere negotiations, cannot buy peace. It is an integral component of the entire peace process that in most successful cases in other countries has been the outcome of a negotiated political settlement.
As to granting amnesty to military personnel who committed acts in connection with counter-insurgency operations, this is patently illegal and dangerous. No one should be put above the law and every wrongdoer must face the consequences of his acts. It is precisely by retreating from their obligation to bring the guilty to justice that the Aquino and Ramos administrations have helped to perpetuate the pervasive problem of human rights abuses by the law-enforcers themselves.
THE CHALLENGE OF PEACE: UNDERTAKE BASIC REFORMS NOW
In this keynote address, I do not intend to belittle the gains made so far by government in the negotiating table. Nor do I overlook the imperative need for flexibility, moderation and openness on the side of the rebel parties. The issue I would like to stress is that the peace talks must go beyond talking. The call we would like government to heed is to decisively undertake urgent reforms to correct the socio-economic problems that cause armed conflict.
In this regard, it can be stated that it is not the NPA or other rebel groups that is the cause of political instability. Wiping out the NPA through every military means or hastening their internal breakup through any psywar means will not bring us the development we want approaching the pace of the Asian tiger economies.
Peace is more than the mere quest for economic security or political stability. It means resolving first and foremost the issues of poverty, landlessness, inequity, injustice and foreign subservience that lie at the roots of rebellion and revolution. It means redressing these very problems which for centuries have hindered our full development as a truly sovereign, democratic and prosperous nation.
The peace process offers us an opportunity to determine the quality of development that we seek to better the lives of our people and the quality of peace that must be built on the basis of this development. The peace process that must be addressed and the agenda of reforms that must be realized.
This is the challenge our nation faces on the eve of the centennial of the Philippine Revolution and at the threshold of a new milennium. I have faith that with Filipinos like you who are deeply committed to the struggle for a just and principled peace, we will be equal to the challenge of our time.
Maraming salamat sa inyong lahat.
MAGKAKATUNGGALING PANANAW SA KAPAYAPAAN
Vicente P. Ladlad
*Ang papel na ito ay binasa ni G. Vicente P. Ladlad, kasapi ng Pambansang Konseho, Bagong Alyansang Makabayan (BAYAN) sa isang forum tungkol sa kapayapaan na idinaos sa National Press Club noong Hunyo 16, 1995.
Ikinasisiya kong maanyayahang magbahagi sa inyo ng palagay tungkol sa isa sa mga kagyat na usapin sa ating panahon: ang usapin ng kapayapaan.
Nais kong talakayin ang magkakatunggaling pananaw sa kapayapaan ng gubyernong Ramos at ng National Democratic Front of the Philippines (NDFP), gayunding ang pananaw ng ilang grupong pampulitika na pumupustura bilang "ikatlong pwersa."
Marahil, hindi iilan ang nagtataka kung bakit inabot ng mahigit dalawang taon ang mga panimulang pag-uusap sa pagitan ng Government of the Republic of the Philippines (GRP) at NDFP. Katunayan, sa Hunyo 26 pa nakatakdang buksan ang mga negosasyong pormal – kung magkakasundo ang dalawang panig sa ilang mahahalagang usaping tulad ng pagbubuo at pagpapatakbo sa mga reciprocal working committees (RWCs).
Ang ganitong takbo ng mga pag-uusap ay mauugat sa magkatunggaling pananaw ng gubyernong Ramos at ng NDFP sa kapayapaan. Hindi maliit ang problemang ito sapagkat ang armadong labanan sa pagitan ng Armed Forces of the Philippines (AFP) at New People's Army (NPA) ay umabot na ng dalawampu't anim na taon.
Kung ang NDFP ay isa lamang paksyon ng AFP, malamang na sumabay na ang una sa Rebolusyonaryong Alyansang Makabayan–Soldiers of the Filipino People–Young Officer's Union (RAM-SFP-YOU) sa pakikipag-usap sa gubyernong Ramos. Hindi mahirap para sa RAM-SFP-YOU na humarap sa negosasyon sapagkat ito naman ay hindi laban sa mismong AFP at sa gubyerno. Nais ngmga rebeldeng militar na makabalik sa AFP. Sa kabilang dako, ang NDFP ay kumakatawan sa isang rebolusyonaryong kilusan na may sariling gubyerno at hukbo.
Kung ang NDF ay isa lamang pwesang pampulitika sa isang rehiyong may pambansang minorya, maaaring makihanay na rin ito sa Moro National Liberation Front (MNLF) sa pakikipag-usap sa gubyernong Ramos. Dapat makitang hindi mahirap para sa MNLF na makipag-usap sa gubyernong Ramos sapagkat mula 1976 nang lagdaan nito ang Tripoli Agreement, tinalikuran na ng MNLF ang paghiwalay ng rehiyong Moro at pumaloob na sa balangkas ng panrehiyong awtonomiya. Sa kabilang dako, ang ipinaglalaban ng NDF ay lampas pa sa usapin ng panrehiyong awtonomiya.
Alam ng gubyernong Ramos na ang NDF ay kakaiba sa MNLF at RAM-SFP-YOU. Kaya naman mas mabibigat ang mga kondisyong ipinapataw ng gubyerno sa NDF bago ang mga pag-uusap. Halimbawa, samantalang payag ang GRP na gawin ang mga panimulang pakikpag-usap sa MNLF sa ibayong dagat, iginigiit ng GRP na gawin ang mga panimulang pakikipag-usap sa Pilipinas. Gusto ng GRP na bago humarap ang NDF sa negosasyon, ideklara na nito ang pagtatakwel sa armadong rebolusyon.
Ang pananaw ng gubyernong Ramos sa usapin ng kapayapaan ay hindi naiiba sa pananaw ng mga naunang gubyerno. Ang kapayapaan para sa mga ito ay ang simpleng pagtatapos sa mga armadong labanan, ang pag-aalis ng armadong banta sa patuloy na paghahari ng mga naghaharing uri. Gusto ng mga nasa poder na sila lamang ang may monopolyo sa armadong kapangyarihan; sensitibo sila sa paglitaw at pag-iral ng iba pang mga armadong pwersa. Hindi sila interesadong lutasin ang mga ugat ng mga paghihimagsik, sapagkat ang nakataya ay ang kanila mismong saligang interes sa ekonomiya at pulitika.
Kung ang isang armadong rebolusyonaryong kilusan ay maliit at mahina, ang naghaharing rehimen ay hindi na pumustura pang para sa kapayapaan. Basta't marahas na dinudurog na lamang nito ang mga regolusyonaryong pwersa, laluna ang armadong bahagi nito.
Subalit kung ang isang armadong rebolusyonaryong kilusan ay lumalawak at lumalaki sa kabila ng marahas na pagsupil dito, ang naghaharing rehimen ay nagsisimula nang umusal at manawagan ng kapayapaan. Gusto nitong makuha sa mga negosasyon ang hindi nito makuha sa larangan ng labanan. Ang maksimum na layunin nito'y mapasuko ang mga rebolusyonaryong pwersa. Ang minimum na layunin nama'y mahati ang hanay ng mga rebolusyonaryo at mapahina ang kanilang kapasyahang lumaban.
Kung marami ang mga armadong pwersang kinakaharap ng naghaharing rehimen, ginagamit nito ang kapayapaan para nyutralisahin ang maliliit na pwersa upang mapagtuunan ang pangunahing kaaway.
Sa ganitong pagtingin, ang kapayapaan ay isang instrumento lamang ng naghaharing rehimen para wasakin ang mga armadong banta sa katatagan ng naghaharing sistema. Sa ganitong pagtingin, ang kapayapaan ay isa lamang pantulong (complement) sa digma, isang psychological warfare scheme.
Ang mga obserbasyong ito ay hindi espekulasyon lamang. Ang mga ito'y makikita sa mismong kasaysayn ng ating bayan. Oo, mayaman ang karanasan ng mamamayang Pilipino sa usapin ng digma at kapayapaan, palibhasa'y may mahaba silang tradisyon ng mga armadong pagtatanggol at paghihimagsik.
Halos sandaang taon na ang nakararaan, ang pag-aalsang sinimulan ng Katipunan sa pangunguna ni Andres Bonifacio ay nauwi sa pansamantalang pagkatalo dahil sa pagsuko ng mga ilustradong pinamumunuan ni Emilio Aguinaldo. Naging instrumento sa pagsukong ito ang laok na kapayapaan ng gubyernong Espanyol. Sa ilalim ng Kasunduan sa Biak na Bato, pumayag sina Aquinaldo na magsalong ng armas at kusang magpatapon sa Hongkong, kapalit ng walong daang libong piso.
Sa panahon ng Digmaang Pilipino-Amerikano, ang mga negosasyong kapayapaan ay ginamit ng mga bagong kolonyalista upang hatiin ang rebolusyonaryong gobyerno. Ang konserbatibong bahagi ng gabinere ni Aguinaldo ay pumayag na makipagtulungan sa mga bagong kolonyalista. Pinalitan ni Pedro Paterno bilang pinuno ng gabinete si Apolinario Mabini na naindigan para sa pagpapatuloy ng armadong pagtatanggol. Ang Paterno ring ito ang nag-ayos ng Kasunduan sa Biak na Bato.
Sapagkat nakatuon ang mga pwersang Amerikano sa pagsupil sa malawak na pagtatanggol ng mamamayan sa Luson at Bisaya, minabuti ng bagong kolonyalista na nyutralisahin muna ang mamamayang Moro sa Timog. Nakipagnegosasyon ang mga bagong kolonyalista sa mamamayang Moro at nilagdaan ang Kiram-Bates Treaty. Nang madurog at mapasuko na ang gulugod ng armadong paglaban sa Luson, pinagbalingan naman ng mga tropang Amerikano ang panunupil sa mamamayang Moro.
Sa panahon ng rebelyong Huk, lumagda ang gubyernong Quirino at ang lumang Partido Komunista ng Pilipinas (PKP) sa isang kasunduan tungkol sa amnestiya. Makaraan ang dalawang buwan, tinapos na ng gubyerno ang amnestiya at sinimulang patayin ang mga lider ng PKP na lumantad sa panahon ng ceasefire. Isa sa mga naging biktima si Juan Feleo, pinuno ng kilusang magbubukid , na maituturing na unag kilalang desaparecido sa Pilipinas.
Samakatwid, ang kapayapaang nakagawian nang ialok ng gubyerno ay panlilinlang.
PABALAT-BUNGANG REPORMA
Sa mga negosasyong pangkapayapaan na tinukoy natin sa itaas, laging nangangako ang mga naghaharing rehimen na kapag nagkaroon na ng kapayapaan ay maaasikaso na ang mga repormang pangkabuhayan at panlipunan. Subalit kapag nawal ana ang armadong banta sa naghaharing kaayusan, nakakalimutan na ang mga ipinangakong reporma. Bubuhayin na lamang muli ang mga usap-usapan tungkol sa reporma kapag mayroon na namang nagpapanibagong-siglang pakikibaka ng mamamayan, laluna kung armado sila.
Maihahalimbawa natin dito ang suliranin sa lupa ng mga magsasaka. Pinagtitibay ang mga batas sa reporma sa lupa kapag may malawak na diskontento ang mga magsasaka at natututo nang mag-armas. Sa kabila ng maraming batas sa reporma sa lupa, hanggang ngayo'y problema pa rin ang lupa para sa masang magsasaka. Dalawang dekada na ang makaraang lagdaan ang Tripoli Agreement, nananatili pa rin ang mga saligang problema ng mamamayang Moro.
Maaaring may magsabi na lubhang malayo na ang panahong pinagkunan natin ng mga halimbawa. Dumako tayo, kung gayon, sa kagyat na nakaraan at sa kasalukuyan.
AKTITUD NG GUBYERNO SA NDF
Sa mahabang panahon ng martial law, hindi nagkaroon ng pormal na mga negosasyong pangkapayapaan sa pagitan ng rehimeng Marcos at ng NDF. Inakala ni Marcos na dahil maliit at mahina naman ang NPA, tiyak na madudurog na ito ng AFP. Nagkasya na lamang siya sa pagsuko at kolaborasyon ng lumang PKP.
Sapagkat tumatagal ang pag-aalsang Moro na nagtatali ng malaking bahagi ng mga panlabang pwersa ng AFP, minabuti ng rehimeng Marcos na alukin ng kapayapaan ang MNLF. Makaraang lagdaan ang Tripoli Agreement noong 1976, pinanghina ang MNLF ng pagsuko at kolaborasyon ng hindi iilang lider nito at paglitaw ng mga ilang paksyon nito. Kapalit nito, nagtamo naman ang MNLF ng status of belligerency. Samantala, unti-unting inilipat ng AFP ang malaking bahagi ng mga pwersa at atensyon ito sa mga larangang gerilya ng NPA.
Sa mga huling taon ng martial law, mabilis na lumawak at lumakas ang NDF at mga alyadong organisasyon nito, kabilang na ang NPA. Ito ang dahilan kung bakit naobliga ang gubyernong Aquino na makipagnegosasyon sa NDFP noong 1986-87. Subalit ang dalawang buwang pagtitigil ng putukan ay naging paghahanda lamang ng gubyerno para sa paglunsad ng digma.
Iniulat ng Pangulong Corazon Aquino sa talumpati niya sa Kongreso ng U.S. noong Setyembre 1986 na nakikipagnegosasyon siya sa NDFP upang magkaroon ng moral high ground sa paglulunsad ng digma kung tatanggi ang huli na sumuko. Samantalang nananawagan ng kapayapaan ang negotiating panel ng gubyerno, inihahanda naman ng Department of National Defense (DND) at AFP na pinamumunuan ni Gen. Fidel Ramos ang patakarang total war, ang strategy of gradual constriction at ang Oplan Lambat-Bitag.
Makaraang umatras ang NDFP sa mga pag-uusap, inianunsyo ni Aquino sa kanyang talumpati sa Philippine Military Academy (PMA) noong Marso 1987 ang tinawag nitong "unsheathing the sword of war" at ang patakarang total war. Ipinangako niyang sa pagtatapos ng kanyang panunungkulan ay matotodas na ang NPA. Kasunod nito'y naglunsad na ang AFP ng malawakan at sustenidong mga kampanyang militar sa iba't ibang larangang gerilya ng NPA. Sistematikong winasak ng AFP ang tinatawag nitong political infrastructure – o baseng masa – ng NPA.
Masasabi natin, kung gayon, na sa kabila ng pagpustura ng rehimeng Aquino sa kapayapaan, ang pangunahing patakaran nito sa pakikitungo sa NDFP ay ang paglipol.
Bigo si Aquino sa kanyang pangakong tapusin ang NPA sa pagtatapos ng kanyang panunungkulan. Humalili sa kanya ang datinghepe de estado ng AFP at kalihim ng Dapartamento sa Tanggulan – Gen. Fidel Ramos.
Hindi tayo dapat malito kung ang utak ng total war policy at Oplan Lambat Bitag sa panahon ng gubyernong Aquino ang siya namang manawagan ng kapayapaan noong siya na ang lumuklok sa Malakanyang.
Dahas pa rin ang pangunahing patakaran ng rehimeng Ramos sa pakikitungo sa NDFP. Ipinag-utos ni Ramos sa AFP na tapusin ang NPA sa pagtatapos ng 1993. Noong Marso 1993, inianunsyo ng hepe ng AFP Hen. Arturo Enrile na nakamit na ng AFP ang "estratehikong tagumpay" laban sa NPA. Hindi natin alam kung anong klaseng tagumpay ito sapagkat ang "counter-insurgency operations" ay hindi pa rin maipasa ng AFP sa Philippine National Police (PNP). Inamin ng AFP na ang PNP ay wala pa sa katayuang sumagupa sa NPA.
Makikita sa pahayag ng mga opisyal ng AFP ang tunay na layunin ng gubyerno sa pakikipagnegosasyon sa NDF.
Noong Disyembre 1993, walang gatol na sinabi ni Gen. Lisandro Abadia, hepe ng AFP, ang ganito: "We have to give the peace process a chance to succeed. Mas maganda sana if we can achieve through peace talks what we have in the past tried to achieve solely through military operations." (MC Dec. 20, 1993)
Sinabi ni Gen. Jose Almonte sa kanyang talumpati sa Singapore Institute of International Affairs noong Hulyo 1993 na ang alok ni Ramos na amnestiya ay "nagluwal ng isang matinding debate tungkol sa estratehiya sa pamunuan ng CPP" at "nakapanghati sa bag-as ng Partido". Dagdag niya, ang "grupong moderato" sa loob ng CPP ay "nagiging bukas sa isang negotiated settlement."
Tinukoy naman ni Ramos noong April 15, 1994 na ang alok ng amnestiya ng gubyerno sa iba't ibang grupong rebelde ay maaaring maging huling bigwas o "coup de grace" sa problema ng insurgency sa bansa (PDI April 15, 1994). Sa paglitaw ng paksyunalismo sa loob ng CPP noong 1992-93, inakala ng gubyerno na guguho at mawawasak mula sa loob ang armadong rebolusyonaryong kilusan. Sa panahong ito nagpataw ang GRP ng mabibigat na kondisyon sa pakikipag-usap sa NDF.
Malinaw sa mga siniping pahayag na ito na ang kapayapaan ay instrumento ng rehimeng Ramos para hatiin ang hanay ng mga rebolusyonaryong pwersa, pasukuin at pahinain ang mahinang bahagi nito.
PANANAW NG NDF
Sa ganitong aktitud ng gubyerno sa kapayapaan, inaasahan lamang na maging napakaingat ng NDF sa muling pagpasok nito sa mga negosasyong pangkapayapaan.
Upang higit nating maunawaan ang pananaw ng NDF sa kapayapaan, kailangan nating maunawaan ang dahilan kung bakit itinayo at umiiral ang NDF at ang mga rebolusyonaryong organisasyong nasa payong nito. Itinayo ang NDF, CPP, NPA at iba pang rebolusyonaryong organisasyon para tugunan ang mga pambansa at demokratikong adhikain ng mamamayan. Ang armadong pakikibaka ay isa lamang instrumento, isang pangunahing instrumento, para sa pagkakamit ng mga adhikaing ito ng mamamayang naghahangad ng pagbabago. Ang lakas ng NDF ay hindi lamang nagmumula sa armadong pwersa kundi sa lawak at lakas ng pagtataguyod rito ng mamamayan.
Ang kapayapaan, sa pananaw ng NDF, ay hindi ang simpleng pagsasalong ng armas nang hindi naman tinutugunan ang mga saligang kahilingan ng mamamayan. Maaaring sa sarili nitong pagkakamali matalo ang isang armadong rebolusyonaryong kilusan tulad ng nangyari sa HMB noong 1950s. Subalit dahil nananatili ang mga saligang suliranin ng mamamayan, muling lilitaw ang bagong armadong rebolusyonaryong kilusan, na nakita natin sa pagsilang ng NPA noong 1969.
Para sa NDF, ang makatarungan at magtatagal na kapayapaan ay nangangahulugan ng kalutasan sa mga saligang suliranin ng mamamayan. Kung hindi magagawa ito, ang anumang pagkakasundo sa pulitika sa pagitan ng GRP at NDF ay mauuwi lamang sa pagsuko. Ito ang dahilan kung bakit ang NDF ay hindi sang-ayon na pag-usapan na ngayon ang pagtatapos ng armadong labanan at disposisyon ng mga armadong pwersa sa kalagayang hindi pa napag-uusapan ang mga saligang reporma sa lipunan.
Sa kabilang dako, ang gusto ng gubyerno ay tapusin na ang gera, upang diumano'y maharap na nito ang pagpapaunlad ng ekonomiya at iba pang reporma.
Para sa NDF, hindi basta mapanghahawakan ang matatamis na salita ng gubyerno. Ito'y sapagkat nakagawian na ng gubyernong mangako ng reporma kung may armadong banta sa katatagan nito.
Sa kaso ng gubyernong Ramos, ni hindi na nga ito nangangako ng mahahalagang repormang tulad ng reporma sa lupa. Ang mas masama, binabawi pa nito ngayon ang ilang naipong tagumpay ng kilusang magbubukid. Ibinabaratilyo ngayon ng gubyernong ito ang pambansang patimonya para sa mga dayuhang monopolyo kapitalista.
Sa ganitong aksyon ng gubyerno, lalong magiging mapagbantay ang NDF sa pangangalaga sa mga layunin at adhikain ng rebolusyonaryong kilusan. Lalong mahigpit nitong pangangalagaan ang mga armadong pwersang natipon nito sa nakaraang 26 taon.
Samakatwid, ang pagsulong ng prosesong pangkapayapaan ay nakasalalay sa kahandaan ng gubyernong Ramos na magsagawa ng mahahalagang repormang panlipunan.
PANANAW NG "IKATLONG PWERSA"
Hindi iilan ang nagsasabi na dapat gamitin ng NDF ang mga pag-uusap pangkapayapaan para maayos na talikuran na ang armadong rebolusyon. Nais nilang magkaroon na lang ng isang negotiated political settlement na tulad ng nangyari sa El Salvador.
Malakas na tagapagtaguyod ng ganitong pananaw ang mga dati at bagong repormistang grupo na malaon nang tutol sa armadong rebolusyon. Kabilang dito ang ilang dating pinuno ng NDF sa Kanlurang Europa – Sixto Carlos, Nathan Quimpo at Byron Bocar – na noon pa'y naglalako na ng El Salvador model.
Mahalagang tukuyin na ang mga negosasyon at kasunduang pinasukan ng FMLN – katumbas ng NDFP sa El Salvador – ay negosasyon ng pagsuko at pagtalikod sa rebolusyon. Pumayag ang FMLN na ibodega na ang mga armas nito sa pangangasiwa ng United Nations, kahit wala pang malinaw na palatandaan kung tutuparin ng gubyerno ng El Salvador ang bahagi nito sa kasunduan. Ngayo'y paisa-isang pinapatay ang mga kumander ng FMLN ng mga lihim na death squads ng gubyerno na ayon sa kasunduan ay dapat nang binuwag.
Lalong wala pang masasabing mahalagang pagbabago sa ekonomiya at pulitika ng El Salvador. Lumahok sa eleksyon ang FMLN, subalit tinalo ng naghaharing partido. May mga ulat na may mga kumander ng FMLN ay abala ngayon sa mga proyekto ng non-government organizations (NGOs) na pinupundohan ng US AID. Sapagkat nawalan na ito ng armadong kapangyarihan, ang FMLN ay nawalan na rin ng dati nitong mataas na katayuan sa pandaigdigang kilusang anti-imperyalista.
Samakatwid, para sa NDFP, hindi katanggap-tanggap ang modelo ng El Salvador para sa rebolusyonaryong kilusan sa Pilipinas. Ang paggigiit ng modelong ito ay nangangahulugan ng pagpapasuko sa mga rebolusyonaryong pwersa. Hindi kataka-taka kung may ilang opisyal na gubyerno, tulad ni Gen. Rodolfo Biazon na pabor din sa modelong ito.
Ang pagtutulak ng ilang grupong pampulitika na pumupusturang "third force" sa NDFP para pumasok sa isang negotiated political settlement tulad ng ginawa ng FMLN, ay pagtulong na rin sa gubyernong Ramos sa pagpapasuko sa NDF.
KONGKLUSYON
Sa pagtatapos, nais kong bigyang pansin na kahit umusad na nang ilang hakbang ang mga pag-uusap sa pagitan ng GRP at NDF, malayo at mahirap pa ang landas tungo sa isang makatarungan at magtatagal na kapayapaan. Lubhang malayo at magkasalungat ang pananaw ng dalawang panig sa kapayapaan.
Kung ang layunin lamang ng gubyernong Ramos sa negosasyon ay makuha ang hindi nito makuha sa larangan ng labanan, tiyak na walang patutunguhan ang prosesong pangkapayapaan.
Hanggang dito na lamang muna at maraming salamat.
CURRENT PROBLEMS OF THE GRP-NDFP PEACE TALKS
Romeo T. Capulong
*Paper presented by Atty. Romeo T. Capulong, Philippine Peace Center President, and Chief Legal Counsel of the NDF Peace Panel, during the Symposion sponsored by the National Press Club on June 16, 1995.
The Government of the Republic of the Philippines (GRP) and the National Democratic Front of the Philippines (NDFP), after two short postponements both requested by the GRP, have scheduled the opening of their formal peace talks in Brussels, Belgium on June 26, 1995[1]. The Belgian government had agreed to host the talks by providing the venue of the meetings and other facilities and services related to the formal peace talks. However, as of this date, there is yet no certainty that the formal opening which will usher in discussions on the substantive agenda will be held as scheduled. This is so because there are still unresolved issues, mainly relating to procedure and modalities which, in the view of both parties, must be resolved before the opening of the formal talks. This is the reason why during the past three months since the last stage of the exploratory talks were held in Nieuwegein, The Netherlands in the last weeks, both parties have been engaged in informal discussions, using the hi-tech method of communications by fax machines and long distance calls.
You will probably ask: why were these issues not foreseen, discussed and resolved during the exploratory stage of the talks, given that such stage lasted from September 1992 to February 1995 or a period of almost two and a half years?
Or, may not these issues be shelved in the meantime, or discussed and resolved after the opening of the formal talks?
Before I answer these questions and discuss the current problems of the peace talks, allow me to take up briefly the achievement of the exploratory stage of the current talks focussing on the two agreements are: The Hague Joint Declaration of September 1, 1992 (Hague Joint Declaration) and the Joint Agreement on Safety and Immunity Guarantees (JASIG) of February 24, 1995. Their importance lies in the fact that they definitively resolved and disposed of difficult fundamental questions that bogged down previous peace talks in the Philippines and in other countries and paved the way for the holding of the formal talks that will tackle the substantive agenda.
Indeed, the current GRP-NDFP peace talks would not have reached its present stage and would have collapsed as early as September 1992 had the parties failed to reach an agreement on the major provisions of the Hague Joint Declaration. This breakthrough was achieved during the exploratory talks in the Hague, the Netherlands on August 31 and September 1, 1992 between Presidential Emissary, Jose V. Yap and NDFP representative Luis Jalandoni, who were assisted by their respective consultants: Cong. Eric Singson and State Counsel Teresita de Castro on the GRP side and Prof. Jose Maria Sison and Ms. Coni Ledesma on the NDFP side.
I was privileged to have participated in this historic meeting as legal consultant in the peace process.
THE HAGUE JOINT DECLARATION
The Hague Joint Declaration is a very brief but concise document, consisting only of five short articles. Yet, its adoption and separate approval by the two parties to the armed conflict at the highest level of their respective leaderships was a breakthrough that resolved fundamental differences and serious impediments in the peace process and paved the way for further talks. For one thing, it defined in clear and explicit language the strategic goal of the peace talks as the attainment of a just and lasting peace and not merely the resolution of the armed conflict and the cessation of hostilities. More significantly, it categorically bound the two negotiating parties to the following framework of the peace process:
The holding of peace negotiations must be in accordance with mutually acceptable principles, including national sovereignty, democracy and social justice and no precondition shall be made to negate the inherent character and purpose of the peace negotiations." (Article 4)
It also provides for goodwill and confidence-building measures to be undertaken by both parties to enchance the peace process.
And finally, it outlined a mandatory process, substantive agenda and sequence in the formal talks which, in my opinion, is fair to both parties, appropriate to the current conditions and ultimately beneficial to our people. Thus, the Hague Joint Declaration mandated that the four substantive topics in the agenda agreed upon, namely: 1) Human Rights and International Humanitarian Law; 2) Socio-Economic Reforms; 3) Political and Constitutional Reforms; and 4) End of Hostilities and Disposition of Forces – shall separately tackled according to a fixed sequence, initially thru the Reciprocal Working Committees (RWC).
As a fundamental framework document, the provisions of the Hague Joint Declaration are broad and all encompassing and require a fair and reasonable interpretation. The two panels now seriously differ in their interpretations and are engaged in day-to-day exchanges of positions on the questions of formation, sequencing and operationalization of RWCs and the logical and appropriate actions on the agreements reached for each substantive topic[2].
The Hague Joint Declaration is particularly significant because for the first time, the GRP agreed that the framework of peace negotiations must be mutually acceptable principles and not the Philippine Constitution, thereby reversing and abandoning its previous hardline and unreasonable position on this prejudicial question.
Before the Hague Joint Declaration, the GRP insisted on surrender as a pre-condition for engaging in peace talks with the NDFP. Such pre-condition was stated and put forward in different formulations, among which are renunciation of the armed struggle, recognizing the primacy of the GRP Constitution and outright surrender and capitulation.
I am sure we can readily understand why all of these formulations are unacceptable to the NDFP. For twenty seven years now, the NDFP has opted out of the GRP legal system and has been engaged in an armed and political struggle against the established government throughout three GRP administrations including that of incumbent President Fidel V. Ramos. I submit that the correctness and legitimacy of the armed struggle, given the current and past socio-economic conditions in the Philippines, is neither a moral nor a legal question about which we can or should readily form a judgment. We all know that we cannot directly and actively participate in such struggle without violateing existing laws and rendering us criminally liable under GRP laws even if we fully agree with the program for which it is being waged.
What the Hague Joint Declaration simply resolved was that the NDFP need not and did not surrender or capitulate to the legal and political system established and maintained by the GRP Constitution as a pre-condition for holding the peace talks. This position is neither unreasonable nor without a valid reason. We have had three constitutions during our whole experience since 1935 as a so-called constitutional democracy. All of these constitutions have failed ys in our aspirations for a decent life under a truly democratic, just and sovereign socio-economic and political order. But more significantly, we all know that the NDFP and its component organizations are genuine revolutionary organizations and, as such, are necessarily engaged in an armed struggle to overthrow the existing legal system.
JASIG
The JASIG is the second important agreement which was entered into by the GRP and the NDFP during the exploratory stage of the talks. It was adopted and signed by the two panels headed by their respective Chairpersons on February 24, 1995 and subsequently approved by the principals – President Fidel V. Ramos of the GRP and Chairman Mariano Orosa of the NDFP. It is now a binding document, effective and enforeceable on both parties.
The JASIG is significant for the following reasons:
As stated by the two negotiating panels in their Joint Statement after its signing, JASIG is an importanct procedural agreement that had to be drawn up during the exploratory talks, which paved the way for the resumption of such talks and eventually, the holding of the formal talks.
Its primary purposes are "to facilitate the peace negotiations, create a favorable atmosphere conducive to free discussion and free movement during the peace negotiations, and avert any incident that may jeopardize the peace negotiations."
It seeks " to protect the rights of negotiators consultants, staffers, security and other personnel who participate in the GRP-NDFP peace negotiations."
Among other guarantees, the JASIG prohibits the forces of either party from undertaking surveillance, harassment, search, arrest, detention, prosecution and interrogation or any other similar punitive action against any duly accredited participant of either side in the peace process. The immunity guarantees shall cover all acts and utterances made in the course of and pursuant to the purposes of the peace negotiations. It also provides that participants or duly accredited persons in the peace process as well as other persons who may assist the personnel of either side in the performance of their work in the peace negotiations, including the conduct of public consultations and peaceful assemblies, shall not be held liable for rendering such assistance. And such immunities shall remain in full force and effect even after the termination of the peace talks.
The JASIG is significant because it upholds the integrity of the NDFP as a revolutionary organization and acknowledges and respects the principles of reciprocity, parity and mutuality as the governing frame in the bilateral relations between the GRP as the established government and the NDFP as a revolutionary movement. In accordance with the JASIG and the Hague Joint Declaration, the GRP can no longer adhere to its former position that the NDFP or any of its component organizations such as the NPA or the CPP, is a terrorist organization whose activities are a mere peace and order problem of the GRP.
At this stage, there are at least three current problems of the GRP-NDF peace talks, all of which may be considered as technical and procedural in nature. By current problems, I do not mean the problems of the peace talks in a broad or strategic sense, matters that the two parties will discuss during the formal and substantive phase and hopefully resolve in a comprehensive peace accord. I refer merely to problems which impede the progress of the talks and which have to be resolved in order that the peace process may move forward.
1.  Reciprocal Working Committees – The two parties have agreed in writing on the separate and independent formation by both sides of Reciprocal Working Committees (RWCs) for each of the four substantive subjects of the formal talks (Section 5b Hague Joint Declaration). Through their respective RWCs specifically created and tasked for the purpose, the two panels are now engaged in marathon telefax exchanges and tele-conferences on each and every provision of the draft agreement on the Formation, Sequence and Operationalization of the Reciprocal Working Committees. The two parties are working hard and hoping, just like most of us, to reach an agreement on the RWCs in time for signing during the opening of the formal talks on June 26 in Brussels.
The problem, however, is that there is still a divergence of positions on the dates of formation and operationalization of the RWCs and the sequencing of their work. The GRP is proposing the simultaneous operationalization and completion of the work of all four RWCs or as many as possible. The NDFP, on the other hand is proposing a strict adharence to the sequencing outlines in the Hague Joint Declaration by forming and operationalizing the RWCs and mandating them to finish their task one after the other, starting with the RWC on Human Rights and Internationa Humanitarian Law, then proceeding to Socio-Economic Reforms, Political and Constitutional Reforms and, finally, to End of Hostilities and Disposition of Forces.
There is, likewise, a disagreement between the parties as to the time and sequence in the submission and approval of the drafts adopted by the RWCs to their respective negotiating panels and principals.
This morning, before I came here, I checked from the Office of the Presidential Assistant on the Peace Process (OPAPP) on the progress of the discussion between the two parties on this controverted issue. I was reliably informed by Cong. Jose Yap that the two parties have reached agreement on this issue and on the other provisions of the proposed Joint Agreement on the Formation, Sequence and Operationalization of the RWCs. Having done so, the last remaining obstacle to the holding of the formal opening of the talks in Brussels on June 26 has been successfully hurled by the two negotiating panels. The two parties will nonetheless hold their final tele-discussions this afternoon no longer on the ticklish questions of formation, sequencing and operationalization of the RWCs but on goodwill and confidence-building measures. (Note: On June 26, 1995 on the occasion of the Opening of Formal Peace Negotiations in Brussels, Belgium the GRP and the NDFP, thru their respective Negotiating Panels, signed the fourth important agreement of the current GRP-NDFP Peace Talks entitled: Joint Agreement on the Formation, Sequence and Operationalization of the Reciprocal Working Committees (RWCs) of the GRP and NDFP Negotiating Panels.
2.   Internal Implementing Guidelines – The second problem which may impede the progress of the current talks is the internal implementing guidelines of the JASIG. The GRP had already issued its draft which was adopted by Inter-Agency Committee composed of five members of the cabinet of President Ramos. The NDF had expressed objections to this draft. Although the guidelines are internal and intended for the guidance of the GRP forces in the implementation of the provisions of the JASIG, it is understandable that the NDF will subject these implementing guidelines to a serious and minute scrutiny. The NDF's experience on the implementation of the GRP guidelines on the ceasefire agreement in 1986 has taught it a costly lesson. The present GRP draft is objectionable to the NDF and, just like its draft in the 1986 talks, violates the major provisions of the JASIG and event he Hague Joint Declaration. For example, the GRP draft implementing guidelines requires the NDF armed personnel participating in the peace process as security forces for the panel and staff to secure a prior license from the GRP to carry firearms! This requirement which is worse than its counterpart guideline in the 1986 talks violates both the JASIG and the Hague Joint Declaration because it requires the NDF forces to submit to the authority of the GRP.
3.   Venue – The third and last problem of the current talks is the question of venue not only of the formal meetings of the two panels but also the consultations and meetings of the RWCs. Let me trace briefly the positions taken by the GRP on the ticklish question of venue. You will recall that the GRP first insisted on a local venue of holding all talks or meetings only in the Philippines. Later, the GRP proposed a shifting venue which meant alternately holding the talks in the Philippines and abroad. Later, the GRP yielded to and agreed to hold talks abroad but only in an Asian City. Finally, the GRP agreed on the consistent proposal of the NDF that the talks be held in a foreign neutral venue. This agreement is specifically provided for in Article III, Section 6 of the JASIG which reads: "The venue of formal talks shall be Brussels, Belgium unless both parties mutually agree on another neutral venue. For this purpose, both parties shall separately make arrangements with the host country concerned." Despite this explicit agreement on venue, one whose provisions and implications were fully discussed and agreed upon by the two panels, some GRP panel members and officials continue to re-open the question and insist on holding the talks in the Philippines. What happens after is that, the GRP top officials ask for a review and re-opening of a settled question as often as they disagree with the decisions of the GRP panel or whenever such decision is criticized in media.
I am sure there are other problems which will arise in the course of the talks. After all, the GRP-NDF peace talks aims to reach agreement on a comprehensive peace accord on human rights and international humanitarian law, sicio-economic reforms, political and constitutional reforms and end of hostilities and disposition of forces. It seeks to address the root causes of the 26-year armed and political conflict and achieve a genuine and lasting peace. The Ramos government has obviously set a definite timetable on the deliberations of the RWCs and the peace panels within President Ramos' present tenure. To some of us, the current talks appear to be moving at a very slow pace, having taken a period of three years, or half of the term of President Ramos to settle questions of procedure, venue, framework and modalities. A closer look at the deliberations of the two parties during the last three years of preliminary and exploratory talks would, however, show that many difficult questions which in the beginning seemed insurmountable had been resolved after painstaking give-and-take discussions between the two panels. For example, the question of framework of the talks which was not definitively resolved during the 1986-1987 GRP-NDF talks because of the intransigent position of the GRP on using the GRP Constitution as the framework of the talks, was resolved with finality in the Hague Joint Declaration by a stipulation binding the parties to mutually acceptable principles, including national sovereignty, democracy and social justice as the framework of the talks. This is a break through which not only resolved a seemingly impossible obstacle but more significantly laid out the correct and mutually acceptable course of the talks. To their credit, both panels and their respective staff labored hard during the last three years in resolving difficult questions and bringing the talks to its present stage. Let us all hope, that with our support as peace advocates, the formal talks scheduled on the 26th of this month will proceed as scheduled and progress towards our common aspirations for a just, genuine and lasting peace.
I am sure there are other problems which will arise in the course of the talks.
PEACE TALKS AS POLITICAL BATTLE
SATUR C. OCAMPO
Note: The formal peace negotiations between the Government of the Republic of the Philippines (GRP) and the National Democtratic Front of the Philippines (NDFP) were set on Monday, June 26, in Brussels, Belgium. The following two-part analysis points out the core issues, the problems past and present, which were expected from the talks. The author was NDF spokesman and chief negotiator in the aborted peace talks with the Aquino government in 1986-87.
On Monday, June 26, in Brussels, Belgium, the Ramos government and the National Democratic Front of the Philippines (NDFP) will begin formal peace negotiations towards resolving the 26-year-long political and armed conflict.
The formal negotiations constitute the second and higher stage of the prolonged peace process, whose exploratory stage began in 1990. The exploratory talks, all held abroad, produced three signed agreements that peace optimists consider as breakthroughs but which cynics call virtual exercises in futility and a waste of time and money.
In public ceremonies at the International Press Center in Brussels, the heads of the two negotiating panels will exchange credentials and deliver opening statements. Then they will sign an agreement on the sequence of formation and activation of four reciprocal working committees (RWCs).
These sub-panel negotiating groups shall discuss and thrash out agreements, later to be submitted to the panels, on the four substantive issues of the agenda agreed to in 1992 under the Joint Declaration of The Hague. These are: 1) mutual respect for human rights and international humanitarian law (HR and IHL), 2) socio-economic reforms, 3) political and constitutional reforms, and 4) cessation of hostilities and disposition of forces.
The sub-panel talks are expected to run for a year or longer.
GUARDED OPTIMISM
Caution against undue optimism over the smooth sailing of the negotiations is proper at this point. The atmosphere for the formal talks has hardly been rid of the cloud of mutual distrust. Moreover, the basic contradictions that hobbled the exploratory talks are likely to spur intermittent contentiousness.
But the talks can be expected to go on because neither side wishes to be blamed for failure. And there's hope for, at least, modest gains.
Probable gains may ba had through a comprehensive accord – a sort of "gentlemen's agreement" – on mutual respect for human rights and international humanitarian law, on which there are clearly-degined reference points. One is Protocol 2 of Common Article 3 of the GenevaConventions of 1949, which sets guidelines for protecting civilians and non-combatants in armed conflicts between state forces and dissident armed forces in a country. Both the GRP (in 1986) and the NDFP (in 1991) have submitted their respective documents of adherence to the Swiss Federal Council, the depository of the Conventions.
DISPUTE OVER FRAMEWORK
As should be expected, the NDFP and the GRP have diametrically opposed stands on what should be the framework of the peace process. This explains the interminable debates and the many breakdowns in the exploratory talks on seemingly simple technical issues, such as neutral venue, security guarantees, and sequence of discussion of the agenda.
The three agreements signed on Sept. 1, 1992 (The Hague), June 14, 1994 (Breukelen), and Feb. 24, 1995 (Niewegein), all in the Netherlands, have not helped to attenuate the conflict.
Briefly stated, the opposing stands are:
The GRP upholds its sovereignty over the whole country, denying NDFP control or influence over any part of the Philippine territory. It is loath to accept the NDFP as an equal or reciprocal party to the peaceful settlement of the armed conflict.
In the GRP's view, a negotiated political settlement can only mean the NDFP yielding to its sovereignty, and that an accord on cessation of hostilities must precede the implementation of reforms addressing the root causes of the conflict.
On the other hand, the NDFP upholds the integrity of the revolutionary forces it represents, their own constitution and government. In the peace process, it claims equality with the GRP under international law. The NDFP also asserts its legitimate aim to gain international recognition of the status of belligerency.
In the NDFP's view, comprehensive agreements on, and initial implementation of, fundamental reforms must be the basis for a final accord on the cessation of hostilities and disposition of forces.
ADHERENCE TO PRINCIPLES
For hanging tough on every issue in the exploratory talks, the NDFP had to endure criticisms in the media that it was intractable, obstructive and "insincere", whereas the GRP was pictured as reasonable for "bending over backwards". No matter, the NDFP seems confident that it shall be vindicated for strictly adhering to revolutionary principles.
Under the agreements signed so far, the NDFP says the prinple of parity – "equality in legal footing" of the NDFP and the GRP – is a settled matter. This parity in status is deemed to ensure the integrity of the peace talks and their results.
The NDFP points to at least two instances: 1) under The Hague Declaration (Sept. 1, 1992), surrender to the GRP as a precondition has been chucked by the provision that "no precondition shall be imposed by one side on the other that is contrary to the character and purposes of peace negotiations"; 2) under the Joint Agreement on Safety and Immunity Guarantees (Feb. 24, 1995), the GRP recognizes the inherent right of the NDFP to issue identification documents as safe conduct passes to its own personnel in the peace talks.
With these assurances of equality, the NDFP hopes to ensure its equivalent rights and responsibilities in implementing the agreements that may result from the talks, not leaving these entirely in the hands of the GRP.
However, the GRP is expected to dispute the NDFP's interpretation of the accords, and to seek all means possible to get the upper hand in any agreement to be forged. Thus, the formal peace talks shall become an arena of intense political battle.
The battle will be waged across the negotiating table and before the public, national and international. For as the talks go on, both sides shall endeavor to explain their positions through the media.
IN QUEST OF CONCRETE GAINS
SATUR C. OCAMPO
Note: This is the second of two articles by the author on the formal peace talks between the Ramos government and the National Democratic Front of the Philippines (NDFP) that opened on Monday, June 26, in Brussels, Belgium.
For different reasons, the Ramos government and the National Democratic Front of the Philippines (NDFP) may claim as achievements in themselves the hurdling of deadlocks in the exploratory talks and the start of formal peace talks in Brussels.
As discussed in the preceding article, the NDFP claims to have secured, in three preliminary agreements, the status of leagal equality of the NDFP and GRP in the peace talks.
The Ramos government appears to have conceded points to the NDFP, after the breakdown of exploratory talks in October 1994, if only to ensure the signing, before the May 8, 1995 elections, of an agreement to begin the formal negotiations.
Having declared the peace talks as one of the key achievements of his regime – as a factor for "political stability" that can lure foreign inverstors to put their money in the country – President Ramos seems content just to keep the talks going, no matter how slow.
DISAPPOINTED WITH GOVERNMENT
But for peace advocates the mere fact that the two sides keep on talking is not sufficient gain, considering the time, effort and money spent over three years. These peace advocates are disappointed over the lack of "confidence-building measures" and of any substantive benefit to the people arising from the peace talks.
This sentiment was expressed sharply by outgoing Senator Wigberto E. Tañada, newly-elected congressman of Quezon who has consistently pushed the peace process since 1989. At an Inter-Church Program forum at the National Press Club last June 16, Tañada said: "Talking should not be the main focus of the peace process." "The heart of the process," he added, "is the resolution of the causes of war."
Calling the Ramos regime to account, Tañada declared:
"The peace process has not gone farther than talks because the government has not carried out substantive reforms." It would seem, he noted, that the government "prefers resorting to endless dialogue because it is not ready to undertake concrete reforms…"
Pursuing his previous criticisms of the governemtns's approach to the peace process, Tañada said:
Apparently, the government believes that dialoques and amnesty will by attrition wear down the dissidents and that time will at length decimate their ranks. This raises questions about the real motive of government in undertaking peace talks. Is it to force the rebels to the negotiating table in order to neutralize them? To voopt them? And ultimately, to break them?"
In this regard, Tañada pointed out that despite the military's claim that the underground Left has been reduced to "ideological irrelevance", "the social grievances they raise continue to make them politically relevant among people leading lives of quiet desperation."
FVR INACTION HIT
Other peace advocates, who had rooted for the defunct National Unification Commission (NUC) formed by President Ramos in 1992 and headed by Haydee Yorac, cite as a big letdown the President's failure to carry out the "doables" that the NUC recommended in 1993. The NUC made the recommentdations after 10 months of nationwide public consultations.
These "doables", the NUC argued then, were "crucial confidence-building measures for the peace process" that could be done through presidential action "within 60 days.
Among them were:
1)   Draft a national land-use policy and defer all pending applications for land conversion from agricultural to non-agricultural use (the incidence of land conversion nationwide has risen since then, derpiving hundreds of peasant families of their main source of livelihood with no immediate alternative sources);
2)   Certify as urgent a bill to repeal P.D. 1177, a Marcos decree that authorizes automatic appropriation for foreign debt servicing (Congress passed such a bill, but President Ramos vetoed it);
3)   Draft remedial legislation on Supreme court decisions that legalize warrantless arrest, checkpoints, and "sonas" or raids and searches on homes and persons without proper court warrants; and
4)   Neutralize and dismantle all private armies.
CONTENTIONS OVER RWCS
The need to show concrete benefits out of the peace talks underlie the contention between the NDFP and the GRP over what to do with agreements that may be forged by the reciprocal working committees (RWCs).
The NDFP wants each agreement trashed out by the RWCs immediately reviewed and passed on by the panels, then submitted for approval by the principles. Specifically, it wants an agreement on human rights and international humanitarian law "as soon as possible" and to have the accord implemented, even as discussions proceeded on the succeeding issues.
This way, the NDFP stresses, both sides can demonstrate their sincerity in carrying out their responsibilities under the agreement. In turn, this can bolster mutual confidence to advance the peace talks.
But more important, the people who have suffered the destructive and disruptive effects of the war can expect physical relief, security in their abodes, indemnification, and redress of human rights violations.
In contrast, the GRP wants each agreement forged by the RWCs set aside until the last accord – on ending armed hostilities and disposition of forces – is completed. Then it proposes that all four accords be xonsolidated into one comprehensive agreement and submitted to the principals for final approval.
The NDFP warns that if the GRP position is adopted, the people may not see any concrete beneficial result for a long while. Worse, the talks may not progress at all.
As this article was being written, it could not be ascertained whether this dispute had been resolved, and how. But a June 19 press release by the NDFP international office in Utecht, Netherlands, announcing the Monday opening of formal talks, says the two negotiating panels will sign an agreement on the RWCs after the opening ceremonies.
If no last-minute contrary announcement is made by either or both sides, it can be safely assumed that the two panels have reached a compromise agreement on this issue.
PAHAYAG NI SOTERO LLAMAS HINGGIL SA SUSPENSYON NG USAPING PANGKAPAYAPAAN
Ang daan tungo sa tunay at matagalang kapayapaan ay matalik at liku-liko. Ang unilateral suspensyon ng GRP sa usaping pangkapayapaan ay isang malinaw na patunay sa bagay na ito.
Pero para makasulong na sa pormal na pag-uusap may pangangailangan na palayain ako ng pamahalaang Ramos para makalahok na ako sa pag-uusap bilang political consultant.
Ang pagpapalaya sa akin ay pagpapakita ng pamahalaang Ramos na kaya at gusto itong sundin ang mga probisyon ng Joint Agreement on Security and Immunity Guarantee (JASIG).
Hindi batayan sa patuloy na pagdeteni sa akin ang pagtutol ng isang huwes. Ibayong ams malaki at dakila ang mga layunin ng usaping pangkapayapaan kaysa sinasabing ligal na angkla ng huwes na ito.
Nais ko ring sagutin sa pagkakataong ito ang ilang mga kasinungalingan ng militar, laluna ng civil relations offices ng AFP.
Sa loob ng isang buwan matapos akong masugatan at maaresto noong Mayo 17 ay wala pang maitim na propaganda naikinakalat ang militar laban sa akin at sa rebolusyonaryong kilusan dahil sa panahong ito ay kinukumbinsi ako ng militar na talikuran na ang rebolusyonaryong kilusan at makipagtulungan na lang sa kanila.
Nabigo ang militar sa pagkumbinsi sa akin na makipagtulungan, at dahil dito ay nagkakalat na sila ng maitim na propaganda at intriga laban sa akin at sa rebolusyonaryong kilusan.
Kaugnay nito, nais kong linawin ang mga sumusunod:
1.   Wala akong balak na pumasok sa programang pang-gobyerno. Wala akong kasalanang dapat ihingi ng tawad. Karapatan at makatarungan ang lumaban sa sistemang mapagsamantala at mapang-api.
Nang dalhin ako sa Sorsogon Provincial Hospital ay naglabas ako ng pahayag sa TV 11 na ganito:
"Sa mga kasama sa kabundukan, kapatagan at sa mga Lungsod at Sentrong Bayan. Ituloy natin ang laban. Ako, si Sotero Llamas ay sugatan at arestado ng militar. Gagawin ko sa abot ng aking makakaya ang mga nararapat na paglaban sa bagong kalagayan."
2.   Ang diumano'y limang dahilan kung bakit umaalis o sumusuko ang ilang kasa ay psywar lang ng militar. Sa katotohana'y sumusulong ang rebolusyonaryong kilusan sa Bikol na makikita sa pagkapal ng organisadong pwersa ng masa, paglawak ng pagrerekluta sa hanay ng Partido at Hukbo, at ang pagbawi sa mga dating lugar na pansamantalang naiwan noon pang 1988. Ang pagsulong na ito ay epekto ng masigasig na paglulunsad ng kilusang pagwawasto sa bansa at sa rehiyon.
3.   Hindi totoo and ikinakalat ng militar na wala na akong tiwala sa ilang kadre ng Partido.
Mula noong inaresto ako ay sumailalim ako sa maraming interogsyon na isinagawa sa Sorsogon, sa Camp Nakar sa Lucena, sa AFP Medical Center sa V. Luna at magpasahanggang ngayon sa ISAFP headquarters sa Camp Aguinaldo.
Sa mga interogasyong ito ay tahasang sinabi ko sa mga opisyal ng militar na una, wala akong idadawit na kasama at sinumang kaibigan ng rebolusyon: at pangalawa, hindi ako gagawa ng anumang ikasisira ng dangal at prestihiyo ng rebolusyonaryong kilusan. Ang pawang gumagawa ng mga paninirang ito ay ang militar.
Lubos ang aking pag-asa na ang pahayag na ito ay magbibigay-linaw sa mga isyung nabanggit. Umaasa pa rin ako na lalaya ako sa tulong ng mga human rights organizations at perople's organizations. Nananawagan rin ako sa pagpapalaya ng lahat ng mga bilanggong pulitikal sa Pilipinas. Ang ganitong hakbang ay magbubunsod ng paborableng klima para sa pag-uusap hinggil sa kapayapaan.
HINDI PA TAPOS ANG LABAN!
MABUHAY TAYONG LAHAT!
Sa Tagumpay ng Rebolusyon,
SOTERO LLAMAS
[1] Opening of formal talks was held as scheduled on June 26, 1995. However, the GRP unilaterally suspended the talks on June 27, 1995.
[2] These differences were finally resolved in the Joint Agreement on the Formations, Sequence and Operationalization of the Reciprocal Working Committees (RWCs) of the GRP and NDFP Negotiating Panels signed during the opening of the formal talks on June 26, 1995 in Brussels, Belgium.